"If you help her, you'll save her. If you help her, then maybe you'll find yourself."- Olivia, Nowhere But Here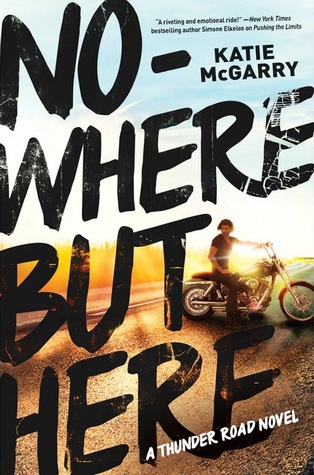 Title: Nowhere But Here
Author: Katie McGarry
Series: Thunder Road
My Thoughts: This book is the first book in McGarry's newest series Thunder Road. This book is told in the dual POV's of the two main characters Emily and Oz. It follows seventeen-year-old Emily who is your typical all-around "good girl" whose life get thrown for a loop when she receives an e-mail from her biological father. Emily soon finds herself on a plane to Kentucky where through a series of events she meets Oz and the two of them are brought together where they discover the buried secrets of Emily's past and also the truths that they may be hiding from themselves.
I was not a big fan of the Pushing the Limits series. I only liked the first book but I did not really care for the characters in the other books. I was a little hesitant to pick this book up because I didn't want to be let down again, but I saw "motorcycle club" in the synopsis so I decided to give it a shot and I'm really glad I did.
After Emily receives an e-mail from her biological father,Eli, informing her that his mother, Olivia, has passed, she, her mother, Meg, and her adoptive father, Jeff, fly to Kentucky for the funeral. Emily does not know much about Kentucky or about Eli because her mother refuses to talk about it. She only knows that her Eli abandoned her when he found out that her mother was pregnant and has only recently become active in her life when he makes his once-a-year trip to visit her in Florida.
Oz has just recently graduated high school and he is now ready to become a member of the motorcycle club the Reign of Terror. They are a brotherhood, a family, they protect people and do everything by the book. The Riot is a rival motorcycle gang who does not play by the rules of road and the tension between the two gangs have recently escalated since the Reign of Terror has been doing business in The Riot's territory. 
When Emily arrives at the wake, she finds that Olivia is not so dead. She is very much still alive (SIDEBAR: the funeral scene was HILARIOUS! I could not stop laughing), but she has cancer and she doesn't have much time left and one of her dying wish is to get to know Emily. Eli kind of loses it when Emily shows up because he believes that Emily's life is in danger and that the The Riot are going to hurt her and he puts Oz in charge of protecting her. It is decided that Emily will stay with Eli until he feels that it is safe for her to return home. Emily is not happy with this at all. She does not know anything about these people and she thinks that they are all crazy.
A major plot in this book is Emily trying to learn about her past and discovering the secret that Eli and Meg have hidden from her. I kind of had a hunch about what the secret could be early on in this book and even though my hunch was right, there is a little more to the secret that I didn't see and it kind of took me by surprise at the ending.
I really enjoyed this book. I will say that the only thing that bothered me in this book was how Emily and Oz's relationship started. There was just way too much sexual tension way too soon. I wished there was more of a build up instead of just making it so obvious that these two characters were going to eventually be together. I did shed some tears at the end because everything was kind of up in the air, but I thought the ending was beautiful and I can't wait to read the next book in this series!
Rating: 4 out of 5 stars!
See you between the pages

 

♥