"Julia Donnelly eggs my house my first night back in Star Lake, and that's how I know everyone still remembers everything."- Molly, 99 Days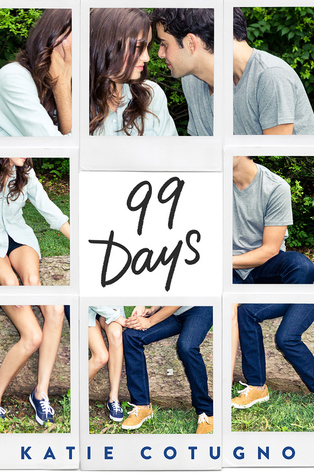 Title:
99 Days
Author:
Katie Cotugno
My Thoughts: This book follows our main character, Molly Barlow, who returns to her small town, Star Lake, after graduating from boarding school. A year ago, Molly left Star Lake after her mother, Diana Barlow, a famous author wrote a novel named Driftwood and revealed that the story was based on her daughter's love life. Hoping that after a year everyone would have forgotten about the scandal she caused, she soon finds that no one has forgotten the mess she made and they have no intentions of making her forget either.
Let me just start out by saying that this book should come with a warning label. WARNING:

This book will cause you to have bursts of rage, which may lead to the excess use of profanity and book throwing!

I usually try not to write off characters early on in books because I hope that by the end I find something to like about the characters, even the one's that I hate. But, that did not happen in this case. I HATED the characters in this book and before you say, "Oh, they can't be that bad", let me explain.
Molly ran away to boarding school during her senior year after it was revealed that she had cheated on her boyfriend Patrick with his older brother Gabe. She became an outcast as everyone turned their backs on her, even her best friend Julia (Patrick's twin sister). She has now returned to her small town before she starts college in the fall at BU, which is 99 days away. Not a day goes by without someone egging her house or leaving a nasty note on her car, but she keeps pushing forward which is something I liked about Molly. She gets a job working for Penn, a divorced mother of two, who is planning to open a hotel in the small town. She also finds that one of the new employees at the hotel, named Tess, is also Patrick's new girlfriend. She also runs into Gabe, and they become close as he says that they are in the same boat since they were "partner's in crime". Things were starting to look up for Molly. She was finding some sense of "normal" again and I was was really liking the first half of the book, but…it was too good to be true.
Molly and Gabe start dating and enemies slowly start becoming allies again, but of course that would be too easy because what kind of story would this be if we don't throw in a little drama? SPOILER ALERT: Molly and Patrick start having a fling. SERIOUSLY, YOU DIDN'T LEARN FROM THE FIRST TIME YOU GOT BURNED?! After this point, the book starts to take a turn, for the worse. I won't give away the ending, but I will summarize my reaction to it with the following GIFS:



In all honestly, I probably wouldn't have picked up this book if it was not summer and although I did hate it, it did cause me to have a strong reaction to the characters and the story, even if that reaction was bursts of rage. If your into cheating and messy love triangles then go ahead and pick this up, otherwise just leave this one on the shelf.
Rating:
2 out of 5 stars!
See you between the pages

 

♥