"I am nothing except this: a girl reborn of the deep ocean silence, meant for nothing but vengeance."- Frances, Daughter of Deep Silence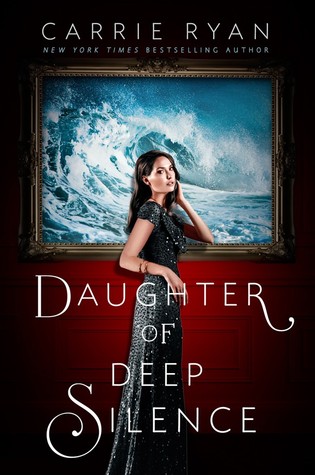 Title:
Daughter of Deep Silence
Author:
Carrie Ryan
My Thoughts:

For four years, Frances Mace has kept silent, not speaking of the day where everything was loss. The day her parents were murdered, the day she watched her friend die, the day where she lost herself. Now, four years later, Frances is ready to break her silence, ready to find the truth…and ready to have her revenge.
This book starts out with our main character Frances Mace, who is fourteen-years-old at the time. She and her parents were on vacation on the cruise ship Persephone. While on the ship, she meets a girl also her age named Elizabeth O'Martin, Libby for short, as well as a guy named Greyson Wells, son of Senator Wells. Everything is great, until one night, men board the ship with guns, killing everyone on board—or so they think. Frances and Libby manage to escape by jumping onto a life raft. They are lost at sea for seven days, and an hour before they are found, Libby succumbs to death. 
When Frances finally comes to, she tries to tell people about the attack. To her surprise, she learns that she was not the only survivor but the Senator and Greyson also survived. But when they are asked about what happened, they lie. They tell the public that a rogue wave hit the Persephone and the ship sunk. No one believes Frances—except for Libby's father, Cecil, who was the one who rescued Frances. Both have lost their family and decide together that they will uncover the truth about what happened on Persephone. So Frances Mace becomes Elizabeth O'Martin and for the next four years, they try to uncover the truth about that night of devastating loss.
Four years later, Frances is now eighteen-years-old and she has come home to uncover the truth about what happened that night, to find out why the Senator and Greyson lied about what happened to the Persephone and the people aboard—and to have her revenge.

This book was so close to being great, but it fell SHORT. I really liked the beginning half of the book. One thing I really liked about this book was how the author wrote Frances as Libby. Frances as Libby became cold and manipulative. Everything she did, she did with a purpose, right down to the flip of her hair. She was not letting anything, or anyone, getting in the way of her finding out the truth. Those little details made me want to keep on reading. Here's what annoyed me: the "insta-love". When Frances saw Greyson again, she felt herself wanting to be fourteen again and being in Greysons arms. Your fourteen, what exactly does a fourteen-year-old know about love, especially when she has only known the guy for a few days!

The ending wasn't even an ending! I had so many unanswered questions. I NEED SOME CLOSURE! The revenge plot in this book would have really been great, if the "teenage angst" wasn't so overdone. Almost great, but not quite there yet.
Rating:
3 out of 5 stars!
See you between the pages

 

♥