"You should not believe everything you hear. Good men fall to monsters everyday. Clever men are tricked by their own pride or by pretty words. That is what happened to the king in the tale she tells."- A Thousand Nights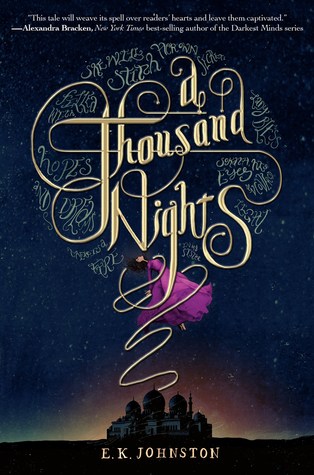 Title:
A Thousand Nights
Auhor:
E.K. Johnston
Publisher:
Disney Hyperion
Expected Publication Date:
October 6, 2015
My Thoughts:
After killing three hundred girls, Lo-Melkhiin has arrived to her village looking for a new wife. Knowing that her sister's beauty will likely make her the King's latest victim, our heroine makes herself stand out in order to catch the King's eye. With success, she becomes the new queen, leaving her desert life and family behind.When she arrives to palace, she anxiously awaits her end. Lo-Melkhiin comes to her room that night and she tells him stories of her sister and the fire that dwells inside her. She tells Lo-Melkhiin of the sacrifice she made in order to keep him away from that fire. Before leaving the room, Lo-Melkhiin grabs the hand of his new wife and something magical, yet strange occurs. Our new Queen wakes the next morning and finds that she has survived the night.
With each new day, our new Queen wakes up to find that she is still alive. No one is sure why or how this could be and fathers across the lands hope that this is the end of the murdering of their daughters. Some believe that Lo-Melkhiin is a changed man, but our new Queen knows better. She knows of the demon that dwells within the King— and she plans to end him. [This novel is said to be a re-telling Arabian tale, A Thousand and One Nights (this story is really getting around this year).]
Let's get down to the actual review!
The Cover:
I really like the cover for this book. It has a lot of symbolism with the copper-color writing and the phrases written around the title, as well as the purple dress our main character is wearing.
The Writing: The writing in this book was very beautiful. It was so detailed and somewhat poetic, it was like a movie was playing in my mind while I was reading this book.
The Characters:
So if you can't tell from my little synopsis, our main character does not have a NAME! Neither does any of the other characters in this book. The only character with a name is the King, Lo-Melkhiin. I really liked out heroine in this book. She's brave and has a smart mouth and she's very strong in my opinion. She fights till the very end to protect the ones she loves.
Lo-Melkhiin on the other hand, he scared me a little (not going to lie). He had no problem letting people know who was boss and was extremely full of himself. I HATED him (which I'm pretty sure was the point).
The Issues:
I did have a few issues with this book. The first half of the book was really slow. It's mostly filled with stories and background information about why things are the way they are and although that was all important, I think that it took too much away from the first half of the book. Another issue I had was with the ending. I felt like there was this great build up and then just like that, everything was right in the lands again. I wanted a little more action.
Overall, I would recommend this book if you're into fairy-tale/folk-tale re-tellings. I would not compare this book the The Wrath & the Dawn because this book is much more darker and it does not have a romance component (no love story here people), but it is still just as beautiful!
*I received a copy of this book from Netgalley in exchange for an honest review.*
Rating:
3.5 out of 5 stars!