"I was a man who'd loved this girl from the moment she'd come back to life and saw no one but me. Now she was closer than she'd ever been, right when I was on the verge of losing everything I'd spent years building and becoming. It was the cruelest switch life had ever thrown at me."- Boyce, Sweet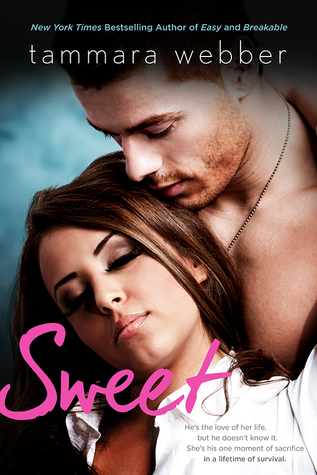 Title:
Sweet
Author:
Tammara Webber
Series:
Contours of the Heart
My Thoughts: Sweet is the third installment in the Contours of the Heart series, however, this book can be read as a stand-alone as the characters and plots from the previous books do not play a role in this book. This novel is told from the dual POV's of our main characters: Boyce Wynn and Pearl Frank. Ever since Boyce saved Pearl from nearly drowning when they were children, a connected was formed, a spark was lit and they have been best friends ever since. Over the years, their feelings for each others grew beyond the boundaries of "just friends", but neither of them ever took the step to cross those boundaries.
Jumping to the present, Boyce, finally free from his abusive father who recently passed, is working on making a better life for himself. He runs a mechanic shop that provides a decent living and he has a roof over his head. But he soon learns that everything he has worked for may not actually be his, but rather to the woman that abandoned him as a child.
Pearl is back home after graduating from college. She has decided that she no longer wants to pursue a career in medicine; she wants to become a marine biologist and study the very thing that brought her and Boyce together— the ocean. Her decision angers her mother, leaving her with no place to go. Worried she will be homeless for the next ten weeks, Peal turns to Boyce who offers her his spare bedroom. As the days go by, both Pearl and Boyce grow closer and their relationship starts to change, boundaries become blurred—a lot can happen in ten weeks, right?
I read Easy a few months back and it was okay. I wasn't "wowed" by it, but I did want to read Sweet because I'm a sucker for childhood love—it just gets me every time. I really liked LOVED this book. Pearl and Boyce's story was so epically cute. One thing I really like about this book was the writing. This book does have many flashback scenes where we see Pearl and Boyce throughout their childhood. We get to see how they became friends and how over the years they had each others back. Boyce was always looking out for Pearl, even when she didn't know it.  I also liked that this was not an "insta-love" story. It was gradual; over the years their relationship grew stronger and so did their feelings for one another.
I also liked both Pearl and Boyce's character. Peal is this nerdy, shy girl who didn't stray from the path that she was set on. But that all changed when she graduated college and I really liked seeing her stand up for herself and not backing down. I thought that she would spend the ten weeks moping around a pining for Boyce, but no, she surprised me by making moves! Then there's Boyce. A red-head with a Southern drawl…

He's not your typical new adult "bad boy". He's just a guy who was dealt a shitty hand, but he didn't let that hold him back. He kept pushing forward, making the shop his own and bringing in business. The character growth in this novel was great as both Pearl and Boyce tried to figure out their future and where they were headed. They both had their share of insecurities, which usually annoys me but I actually liked seeing how both of them overcome their self doubt. Pearl and Boyce's story felt authentic and I wasn't rolling my eyes like I usually do with some of these new adult reads. Definitely worth the read!
Rating:
5 out of 5 stars!