"She was fire, and light, and ash, and embers. She was Aelin Fireheart, and she bowed for no one and nothing, save the crown that was hers by blood and survival and triumph."- Queen of Shadows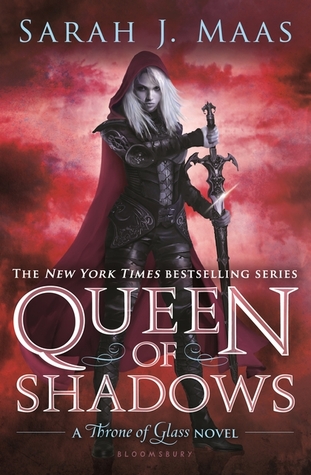 Title:
Queen of Shadows  
Author:
Sarah J. Maas
Series:
Throne of Glass
The Queen has returned.
Aelin Ashryver Galathynius— no more Celaena Sardothien— has returned to Adarlan, ready to take down the King and rescue her friends. When she returns, she finds that the situation is more dire than she anticipated. She learns that her cousin, Aedion, is being held prisoner and awaiting execution by the King; Dorian is currently under the control of a Valg demon; Chaol has joined the rebels in hopes of saving Dorian. Pretty much all hell has broken loose!
Meanwhile, an army is being built— an army of demons and witches. Manon Blackbeak, so used to just taking orders, has now started to question things as well as the purpose of her and her Thirteen. What is the King really planning and why does he need Blackbeak witches? 
The tension builds and the time has come for the King to pay his dues. This leads to an epic face-off and a heart-wrenching finale— who will be left standing?
Okay, breathe, in, out, in, out…WHOA!
This book was just FREAKIN' awesome…AMAZING!
WARNING: THERE MAY BE SPOILERS AHEAD!
So, Aelin— yes it's Aelin now, bye-bye Celaena— has returned and she is ready to raise hell. I really like Aelin in this book. I think that even though Aelin and Celaena are the same person, I think Aelin differs from Celaena. Majority of this book is planning and Aelin's plan for taking down the King was really thought out. Down to the smallest detail. Celaena was more of a dive-right-in type of girl, but I liked that there was a planning. Also, Aelin is a little more self-less and she looks at the bigger picture because so many lives depend on her succeeding.
Throughout this book, I found myself starting to love characters I started off hating. First was Lysandra. I hated her from the novella's. I thought that Aelin was going to rip her a new one, but she surprised me by actually being an ally to Aelin. She is much more than just a pretty face and her little secret made me love her even more. I totally ship this friendship right there. Then there was Manon. I was not too sure about Manon's purpose in Heir of Fire. I was like is she going to be important? Is she going to try and kill Aelin? But now that we get a clearer picture of who she is, I started to like her and I'm excited to see how her role is going to play out in this battle to come. Lastly, Dorian. I never liked Dorian since the first book— sorry, not sorry. But reading his POV while the Valg demon was controlling him was just…I can't…
Now, I love him and I want to see what he does now that he is as our new King.
So Arobynn finally got what he deserved…and who better to do it than Lysandra! That scene, I was crossing my fingers that everything went according to plan because he needed to go! Chaol, although he doesn't show up much throughout the book, he did annoy me a little, more so in the beginning. But, he became more tolerable towards the ending and hopefully he makes a full recovery!
Now, let's talk about ROWAN! Rowan is endgame. That's it. End of story. Discussion over. I love his relationship with Aelin; their non-verbal conversations; his loyal devotion to her. That bond is unbreakable and he and Aelin together will free the land of the evil that is headed their way.
I think I pretty much covered everything. This book answered a lot of my unanswered questions and there were some plot twist that had me like:

I can't wait to get my hands on the next book. Luckily, we have ACOTAR part 2 to hold us over until then…