"This is more than infatuation or physical chemistry. This is alchemy. Chemistry is predictable. Alchemy implies magic…and I didn't think that magic existed in the real world, but maybe it does— a certain kind of magic. Because this is what it feels like when your life changes…."- Hannah, This Book Will Change Your Life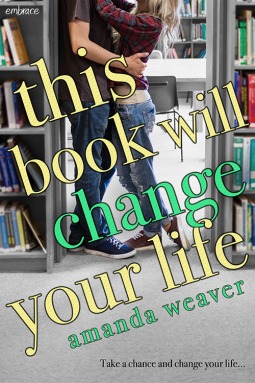 Title:
This Book Will Change Your Life
Author:
Amanda Weaver
Publisher:
Entangled Publishing, LLC
Expected Publication Date:
September 28, 2015
*I received a copy of this book from Netgalley in exchange for an honest review.*

Hannah Gregory is a freshman in college. She is in the Honors Program for Chemistry and she hopes to follow in her dad's footsteps to become a chemist and find the cure for the diseases like the one that took her mother's life. She seems to have it all figured out— that is until she fails her first test. As she tries to figure out what to do, she stumbles across a used bookstore, Prometheus Books, where she meets cute bookish-boy, Ben Fisher. Ben recommends a book to Hannah, stating that "this book will change your life", and it does. Hannah can't stop reading and soon finds herself drifting away from chemistry and diving into a world of words.
Ben Fisher is a senior in college and more than anything, he wants to go to graduate school in hopes of becoming a professor to teach the subject he loves the most: English. But his father has other plans, believing that a law degree would be better money spent.
Hannah and Ben start spending more time together as Ben shares his love for books with Hannah and soon sparks start to fly. But Hannah and Ben can't live in their world of words forever and soon they have to decide— what do they want to do for the rest of their lives?

The Cover:
I was drawn in by the title (it's the main reason why I requested this book). I wanted to know if the book would change my life. Sadly, this book did not change my life, but I did enjoy it!
The Writing:
The writing style is your typical new adult format. It is told from the dual POV of our main characters, Hannah and Ben. Nothing really special with the writing, but there was one quote that stuck with me: 
"I'm dancing around all these random classes that shouldn't even be on my radar. I'm ignoring the thing I'm supposed to be passionate about because all I really want to do is read."
This quote literally just defined my life as I am a senior who will be graduating soon, still trying to figure out what and who I want to be in this big, big world.
The Characters:
I ended up really like Hannah. I thought that she would be naive and annoying, but she stands up for herself. She makes the first move, she tells it like it is (for the most part) and at the end of the day, she just wants to be happy. It was also exciting to see her fangirl over books and characters and just get lost in books.
Ben was okay. He didn't make me swoon and there were times where I found him to be annoying. I just wanted to shake him sometimes and be like, "DUDE, make up your mind!".
The Issues:
So, there is "insta-love" in this book, but I think that it did work for this book. My only complaint is that I wished they had saved the "I love you's" until the last scene in the book. I think that it would fit better there because by the end of the book, both characters have overcome many obstacles and I think at that point was when they realized how much they really cared for each other.
Overall, I did enjoy this book. It was a quick and easy read that allowed me to escape to the world of words for just a few hours.