Happy Saturday!
Welcome to Day 6 of this 30-Day Book Challenge. The challenge is simple; for each day there is a statement and you have to choose a book or series that relates to said statement.
Let's begin!


Mmmm…a book that makes you sad. *Scrolling down my Goodreads "read". Stop.* This one, definitely this one…
For this statement, I am going to go with Bright Side by Kim Holden. This book follows our main character Kate Sedgwick who is about to start her first year in college. Kate has not been dealt the best hand in life: her dad left when she was young, her mother was an addict and her sister passed a few years ago. But she has always had her best friend, Gus, by her side to help her out, even during her darkest hours. But Kate is ready to leave all that in the past and start a new life in Minnesota where she will be going to college. She makes new friends and meets Keller Banks (CUTIE ALERT) and everything is going according to plan. But Kate has a secret— a secret that has other plans for Kate, a secret that may just break her.
Words can't describe how much I LOVE THIS BOOK! I have never felt this way about a book, like ever. This was me at 1 in the morning: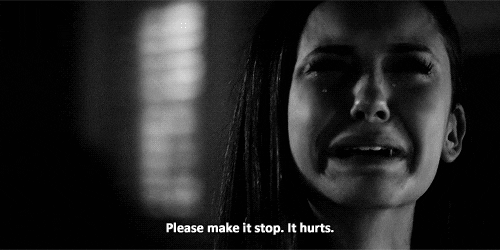 I figured out Kate's secret pretty early on in the book, but I was still not prepared for the heartache. Kate is such a beautiful character. She had it pretty rough and instead of being bitter, she just keeps looking at the bright side and she keeps pushing forward. This story felt real, no typical new adult drama and nonsense, just a REAL story. Everyone needs to read this book!
---
That's all for this post! Until tomorrow…