Hey Guys!
Welcome to Day 8 of this 30-Day Book Challenge. The challenge is simple; for each day there is a statement and you have to choose a book or series that relates to said statement.
Let's begin!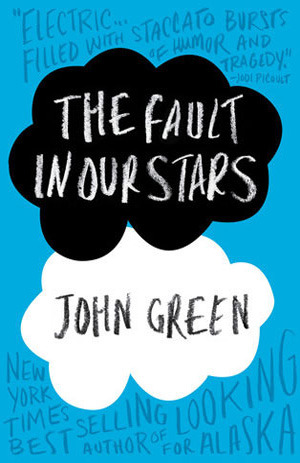 I know what your thinking…how could I choose this book of all the books? Is she a robot?
For this challenge, I am choosing The Fault in Our Stars by John Green. If you haven't heard of this popular book, here is quick summary. This book follows our main character, Hazel Grace Lancaster who has terminal cancer. With the help of a miracle drug, Hazel has been able to survive, but she has accepted her fate and knows she will die. One day, while at a support group, she meets a cancer survivor named Augustus Waters and changes everything, giving Hazel hope to just live a bit longer.
So I know many people liked  LOVED this book. but I could just not get into it. I made it about half-way and I was so bored. I am not fan of John Green's writing. I personally find it a little dry. I think that he has some great one-liners that pull at your heart strings, but I think that's all they are. I am a fan of The Fault in our Stars movie, I cried watching it, so maybe I'm not a robot?
---
Just a little announcement, I decided to make a Twitter. Not quite sure how I feel about it yet, we'll see. Feel free to follow me @thedreamingworm where I will continue to spread my fangirling ways and I might even discuss things other than books (movies, shows, my crazy life).
That's all for this post! Until tomorrow…