"Ours was a hard love. We'd fallen hard into it, and we'd fought hard to keep it. Our kind of love didn't ask nicely. It took. It ravaged. It consumed the heart whole and asked questions later. The rewards were soul-deep and all-consuming, sweeping through like a wildfire."- Erica, Hard Love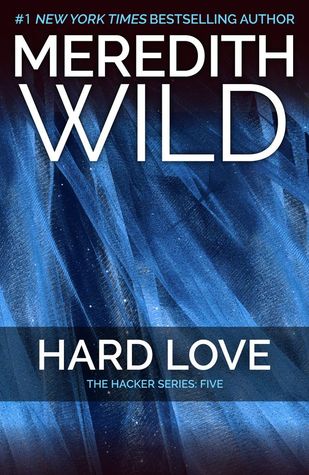 Title:
Hard Love
Author:
Meredith Wild
Series:
The Hacker Series
Publication Date:
September 15, 2015
*I received a copy of this book from Netgalley in exchange for an honest review.*

Hard Love is the epic conclusion to The Hacker series. This book starts with our happily married couple honeymooning in Dublin, Ireland. After all the pain that Erica Hathaway (now Landon) has endured, she is excited to start her new life with Blake Landon. She is ready to forget the past and move forward to brighter future. A future where she hopes that she can have a family. Blake, never thinking that he would want a family, let alone get married, wants to give Erica everything she deserves and the two waste no time consummating their marriage.
But when they returns back to reality, the couple find themselves in the middle of a scandal. Daniel Fitzgerald, Erica's father, has had his new Governor's title stripped from him after evidence was found that the polls were rigged in his favor. The software used to hack into the polls was one that Blake had first created many years ago. When the authorities come to take Blake away, Erica steps up, determined to find out exactly who is trying to ruin the couple's happily ever after.

The Cover:
The cover of this book was okay, nothing special. I never really cared for any of the covers in this series. They are kind of plain and boring.
The Writing: Okay, I was so excited for this book because we were finally given what I have been waiting for since the fourth book: Blake's POV! If you remember, the fourth book in this series, Hard Limit, started off with Blake's POV and I was super excited because I wanted to see what was going on in his head. I wanted to understand his character more, to see how he went about making decisions and also how he felt about his relationship with Erica. But no, NO! It was a tease and I was just so angry.

But in this book, we get the dual POV's of both Blake and Erica and I LOVED IT! We learned more about Blake's past and we also see that he is not as calm and collected as everyone believes. But more importantly, we see how truly and deeply he loves and cares for Erica and he will sacrifice anything for her safety and happiness.
The Characters:
I am fan of Erica Hathaway. She is such a strong female protagonist who has so much drive and determination. She hasn't had the best life, she has been taken advantage of one to many times, but she still gets back up and she somehow is still able to trust. One thing that I always admired about her character was that she never let Blake tell her what to do. When he was in trouble, she disobeys him and goes off the figure out who is behind the scandal. She is her own person and I'm happy she didn't lose that part of herself after she and Blake got married.
So after reading this book, I love Blake even more. Seeing him so vulnerable was interesting because he comes off as this suave, put together guy, but you start to realize that he is human, just like the rest of us. He also had great character development where he starts to give over more control to Erica. Also, the fact that he wanted to have a child was big because he never even thought he would get married, so parenthood was a big step for him.
I also like the plot twist in this book. I was shocked when it was revealed who was behind the scandal because I could not believe that this character was capable of hurting Blake and putting his life on the line. 
The Issues:
Honestly, my only issue with this book was that I wished it was longer. I was not ready to say good-bye just yet to Blake and Erica
I am always surprised at how much I enjoy The Hacker series because I was not a fan of Fifty Shades of Grey, or any other book with a similar plot line. I think it maybe that Blake and Erica's relationship has a bit more dept to it. There is also an actual story in this book, it's not just about sex. This was a beautiful ending to a great series and I'm excited to read more from Meredith Wild in the future!