Happy Tuesday!
Top Ten Tuesday is a bookish meme hosted by

The Broke and The Bookish

. This week's topic is Ten Wishes I'd Ask the Book Genie to Grant Me. If only this Book Genie was real, then my life would be complete (for the most part!).  Let's begin!
---
 
For the power to stop time…
How cool would this be? I want this superpower so I can stop time and sit back, relax, and just read. Sometimes, a girl just needs a pause button when everything becomes a little overwhelming and this superpower would definitely come in handy!
For Hermoine's time-turner to become real…
I WISH that the time-turner could be a real object. This way, I could get more things done. For example, if I spent three hours procrastinating, I would use the time-turner to go back three hours and get my work done. This is perfect for me!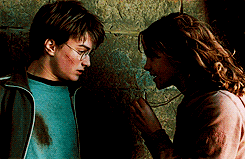 To be the main character in a book written by one of my favorite authors…
How FREAKIN' AWESOME would this be? I don't know who I would choose though because there is just so many favorite authors to choose from, but I would most likely want to be a character in either a fantasy or contemporary novel since they are my favorite genre to read. I would also want to be kicking some ass in this novel, or at least be sassy since I have been dubbed "The Sass-Master" by everyone I know!
For Rome, from the Marked Men series by Jay Crownover, to come to life…
Ahh, swwwooonnn….Rome from the Marked Men series by Jay Crownover is by #1 book boyfriend. I love pretty much all the guys in any of Crownover's books because they meet all my requirements: tall, tatted, & pierced! But I have completely fallen head-over-heels in love with Rome. His no-bullshit personality would balance out my can't-take-anything-serious personality perfectly.
For Hogwarts to be real school…
How cool would this be? The Hogwarts castle is stunning and I would love to go to school at a place that is filled with so much history! I would learn so many spells and get to eat scrumptious treats and get to hang out with some of my favorite wizards!
For Molly McAdams to write Mason's story…
Forgiving Lies by Molly McAdams is a new adult series that I really enjoyed. I especially enjoyed Mason's character in the first two books and I thought that his story would be next. Instead, she wrote a novella about another character and while I completely adore the novella, I still want her to write Mason's story. He deserves one! I really want this wish to come true!
To get at ARC of Remembrance by Meg Cabot…
The Mediator series by Meg Cabot is a series that is near and dear to my heart. I have read this series so many times, I love all the characters and the plot and the guys…(insert fangirl squeal here). Meg Cabot announced a few months back that she will be writing a new book to add to The Mediator series called Remembrance. But wait, get this…IT'S GOING TO BE THE FIRST ADULT INSTALLMENT! This means that there will definitely be some hot & heavy moments between one of my fave OTP and I can't wait for this…I want to read this book so, so bad!
For a bigger, better library…
I have a built in library in my living room, but here's the catch. I am only allowed one shelf to put my books on and the others are designated for trinkets and photos. How exactly am I suppose to fit all my books on one shelf?? Currently, most of my books are in bins in my attic and it is pure torture because I don't have easy access to them. Sometimes, I'm just in the mood for a quick re-read and I don't want to have to climb all the way to my attic to get a book. So I want my own designated library space where me and my books can spend some one-on-one time together without any interruptions.
An unlimited book budget…
So this is probably on pretty much any bookworms list, am I right? I want to buy ALL THE BOOKS! That means having some deep pockets and I'm tired of working weekends in order to support my book hoarding ways. I would no longer have to stress about getting the newest release because let's be honest, new releases are pretty darn pricey! 
For Lysandra, from the Throne of Glass series by Sarah J. Maas, to come to life…
Lysandra a.k.a Ghost Leopard a.k.a Certified-Bad-Ass is my twin. Our personalities are so similar and I just love it! I'm pretty sure that we would find ourselves in some crazy situations, but I think we would be able to talk ourselves our way out of them. We would get mani-pedi's together and spend hours at Sephora and Godiva and just have a fun time!
---
That's all for this Top Ten Tuesday! If you posted a Top Ten Tuesday, leave it down below so I can see all your wishes! (Hopefully, some of them will come true!)