Hey all you lovely Bloggers!
I was tagged by the lovely Bea from Confessions of a Pinay Bookaholic to do The Mean Girls Book Tag.  Thank you Bea for tagging me and you should all go check out her blog!
Let's begin!
---
♥ Manon Blackbeak: I could not pronoun "Manon" and actually just ended up calling her "M" until I went to see Sarah J. Maas and she told us how to pronounce all the names!
♥ Celaena from the Throne of Glass series by Sarah J. Maas put in The Lunar Chronicles series by Marissa Meyer: I totally want to see Celaena SLAY Queen Levana!
♥ The Crossfire series by Sylvia Day: This series and the Fifty Shades of Grey series could be TWINS! Seriously, the only real difference is that our main character Eva has a backbone, unlike Anastasia. It had so much potential and then it FLOPPED!
♥ Daughter of Deep Silence by Carrie Ryan: This book could have been awesome, but no. After the story went from revenge plot to getting-the-guy plot, I could not.
♥ Kate Alexander (When It Rains by Lisa De Jong): Can we just give this girl a hug because dammit she DESERVES it! 
♥ About 3-4 hours. No lie, every time I go to The Strand, I literally search all the shelves to make sure I don't miss any deals for books that I really want.
♥ Rowan Whitethorn: Do I really need to explain this one 😉 ?
♥ The Lunar Chronicles by Marissa Meyer: I have already read Cinder and I was not blown away. Seriously, the HYPE is so real for this series and I hear it's get better so maybe I'll like the others books, hopefully. 
♥ Rumple from OUAT: I know Rumple is not a book character, but I LOVE him. He's such a great character because he's just so GOOD at being BAD!
♥ Julia Cohen from Slammed by Colleen Hoover: She was such a great mom. Her words of wisdom are what stuck with me the most and even though her ending was bittersweet, she was still there for her kids.
♥ The Raven Boys by Maggie Stiefvater: I want to read this series so BAD, especially since I've heard nothing but good things, but I have been spoiled so MANY TIMES! I will probably marathon the series before the last book comes out next year.
♥ SASSY: I want all the SASS! I just love it so. Maybe because I have been dubbed "The Sass-Master" in real life, but sass keeps me entertained and it can ease the tension for when things start to get crazy.
♥ I curl up in a corner and hope that I survive the latest attack of THE FEELS! (LOL)
♥ Kate from the Bright Side duology by Kim Holden: Her California sass is the BOMB! I love her little phrases and she has some to the BEST comebacks!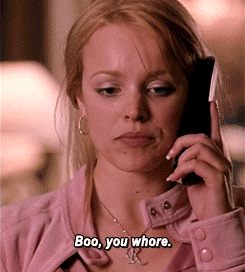 ♥ Molly from 99 Days by Katie Cotugno: Oh GOD! Talk about keeping it in the family, but seriously this book was a big NO. JUST NO!
YOU are OFFICIALLY tagged:
Calliope @ Calliope the Book Goddess
Samer @ Book Bubble Bee
Reg @ She Latitude
Dee @ The Bookish Khaleesi
JL @ Lost in Between the Pages
Lauren @ Drifting Lexi
---
This tag was so much FUN! I got to use so MANY GIFS! Plus, Mean Girls is one of my favorite movies ever!
That's all for this tag 🙂 !