"I want you to remember that— it's our choices that matter in the end. Not wishes, not words, not promises."- Rose, Passenger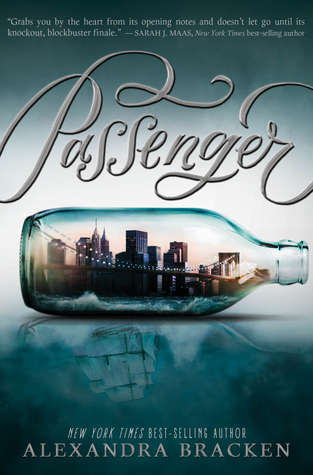 Title: Passenger
Author: Alexandra Bracken
Publisher: Disney-Hyperion
Publication Date: January 5, 2016
Links: Goodreads | Amazon | Barnes & Noble | Book Depository
*I received an ARC from Netgalley in exchange for an honest review. *
Synopsis via Goodreads: passage, n.
i. A brief section of music composed of a series of notes and flourishes.
ii. A journey by water; a voyage.
iii. The transition from one place to another, across space and time.

In one devastating night, violin prodigy Etta Spencer loses everything she knows and loves. Thrust into an unfamiliar world by a stranger with a dangerous agenda, Etta is certain of only one thing: she has traveled not just miles but years from home. And she's inherited a legacy she knows nothing about from a family whose existence she's never heard of. Until now.

Nicholas Carter is content with his life at sea, free from the Ironwoods—a powerful family in the colonies—and the servitude he's known at their hands. But with the arrival of an unusual passenger on his ship comes the insistent pull of the past that he can't escape and the family that won't let him go so easily. Now the Ironwoods are searching for a stolen object of untold value, one they believe only Etta, Nicholas' passenger, can find. In order to protect her, he must ensure she brings it back to them— whether she wants to or not.

Together, Etta and Nicholas embark on a perilous journey across centuries and continents, piecing together clues left behind by the traveler who will do anything to keep the object out of the Ironwoods' grasp. But as they get closer to the truth of their search, and the deadly game the Ironwoods are play­ing, treacherous forces threaten to sep­arate Etta not only from Nicholas but from her path home . . . forever.
That cover is GORGEOUS! I love how the ship in a bottle reflects the city in a bottle representing the connection between the two times. 
A pirate, a time-traveler, an epic treasure hunt!
I went into this book with low expectations because after hearing mixed reviews, I didn't want to get my hopes up. Now, I want to slap myself for not picking up this book sooner!
The main plot of this book is like an epic treasure hunt. Our two main characters, Etta and Nicholas, are searching for a object of great value and whoever possess it will hold even greater power. Using clues from a letter her mother left her, Etta and Nicholas must travel through time to find the object in order to save both her mother and herself.
For the first 20% of the book, I was confused. I wasn't quiet sure what was going on because there are a number of things that go down in beginning and you don't really understand the reasons for why they happen until later in the book. It isn't until Etta learns that she is a time-traveler does it all start to make some sense and I was pretty much sucked in after this point.
This book is filled with historical references and I absolutely LOVED it! Going from one era to the next, Bracken accurately describes what society was like during those times. What I enjoyed most was seeing how race played a role throughout the story because Nicholas is half African-American and no matter what the era, he was judge by the color of his skin. Race also plays a role in Etta and Nicholas's relationship as he didn't think he was worthy to be with her because of his skin color and often held back from showing Etta his true self because of it.
The action was GREAT! They were jumping through time, trying to find answers, my adrenaline was PUMPING, I couldn't get enough! I was not expecting that PLOT TWIST at all. One minute things were going good and then the next, SH!T HIT THE FAN! WHY?! The only thing I liked about plot twist was that we finally got some REAL answers!
I ABSOLUTELY LOVED THE CHARACTERS!
♥ Etta: I didn't like Etta at first because she was a bit whiny and all she kept going on about was her debut. But that quickly changed when I realized how SASSY she was (& I love a girl with sass). She's a lot stronger than I first pegged her to be and handles the whole revelation about her family history really well. She also becomes more self-less by the end of the book as she starts putting the needs of others before her own.
♥ Nicholas: He's a (legal) pirate, WHAT'S NOT TO LIKE?! Nicholas is so SWOON-WORTHY, I love him! I love his backstory and hearing him talk about this struggles. Also, although he comes off as this BADASS pirate, he has some major insecurities and I enjoyed seeing him work through his issues with help from Etta because he deserves so much more than what life has handed to him.
♥ Sophia: I won't say too much about Sophia's role throughout the story other than to watch out for her. She's more important than you think ;).
Besides being a bit confused in the beginning, the only other issue I had with this book was the romance. While I completely ADORE Etta and Nicholas together, I felt that the romance was introduced a bit too early. It's obvious that these two are going to be the pairing for this book, but they don't even know each others name and already Etta trust's Nicholas with her life. NO! Could we wait a few chapters and get to know people before we go automatically go trusting people with our lives? That's all I ask.
Overall, I really enjoyed Passenger, a lot more than I was expecting. I should say that this book is quite dense. There is more internal dialogue than external dialogue and coupled with all the historical references, it can be a bit of a slow read. But I still HIGHLY recommend everyone check this book out because it is such a great adventure with an ending that will leave you wanting NEEDING the sequel ASAP!