"Haven't you heard? Revenge is the best medicine for heartbreak."- Felix, Not Okay, Cupid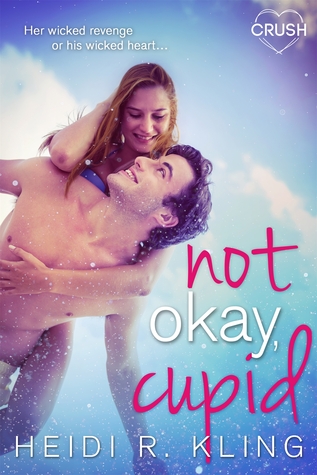 Title: Not Okay, Cupid
Author: Heidi R. Kling
Publication Date: January 11, 2016
Publisher: Entangled: Crush
Links: Goodreads | Amazon | Barnes & Noble | Book Depository
*I received an ARC from Netgalley in exchange for an honest review. *
Synopsis via Goodreads: Her wicked revenge, or his wicked heart…

Hazel McCallister loves her life. Perfect grades. Perfect best friend. Perfect boyfriend. Until her perfect boyfriend cheats on her with her perfect best friend. Now Hazel's in free fall—until her best friend's brother, Felix, gives her the perfect idea. Reclaim her power by taking revenge on her cheating ex.

Felix James loves his life. Casual relationships. Loads of surfing. He's as drama-free as they come. But he can't stand by when his sister steals her best friend's boyfriend, and the dude insists it was Hazel's fault. So Felix vows to help turn Hazel into a girl her ex can't resist—so then she can break his heart.

With an alliance in place, Hazel's revenge is all but assured. But with each piece of payback, she feels a stronger attraction to Felix, even though revenge will turn her into a girl Felix could never be with. And soon Hazel has to make an impossible choice: revenge…or Felix, the boy who's stolen her heart.

WARNING! This book contains betrayal, revenge, and that most tempting vice of all, the bad boy you know you can't have.
I like the cover for this book and it was the reason why I requested it. I needed FLUFF! Unfortunately, there was not enough fluff.
Hazel had it all— that is  until she walks into the school cafeteria to find her best friend and boyfriend canoodling like two love birds. Coming to her rescue is Felix, the older brother of said best friend ex-best friend, who comes up with "Operation Revenge". The plan is for Hazel and Felix to pretend that they are a couple in order to make Hazel's boyfriend ex-boyfriend jealous. But what happens when things don't go according to plan and "pretending" becomes reality?
I have a love/hate relationship with the writing in this book. I went into this book excited because of the "revenge" plot (I LOVE me a good revenge story), but I don't think it panned out as well as I had hope. The first half of the book was great. I LOVED the banter between the our two MCs, Hazel and Felix. They were HILARIOUS and I could not stop giggling for the first half of the book.
The second half is where I had issues. I just found everything to be repetitive as both characters go back and forth trying to decide if their feelings for the other person was really "real". I was waiting for there to be some type of "grand gesture", but there wasn't! The story kind of drags on and I was not satisfied with how things ended.
There were a few things I did like about this book. For some of the chapters, snippets from the Psyche and Cupid myth and I enjoyed those and I liked how this myth was weaved into the story. Another thing I liked was the parent-child relationships. Both Hazel and Felix's mom are single parents and they are just so supportive of their kids and always there for them and I LOVE their roles throughout the story.
Personally, I thought our main characters lacked depth. 
♥ Hazel: I liked Hazel in the beginning. She was had a great personality and I felt that she was relatable, but then she just fell flat. Her constant back and forth and indecisiveness just annoyed me. GIRL, MAKE UP YOUR MIND! To be with, or not to be with…that should NOT be the question, especially when the answer to said question is standing right in front of you!
♥ Felix: I did NOT like Felix. I thought he was immature and I lacked direction. He doesn't really do much but hook up with chicks and surf. I wanted to see more of him and his culinary skills or at least see him do something besides hooking up with chicks and surfing.
One issue I had with this book was in regards to the writing. The author would use parentheses where she would have internal dialogue that was meant to address the reader (kind of like this and I think she was trying to use the whole concept of "breaking the fourth wall", but in book form) and I didn't like it. I think it actually took away from the story because it diverted the readers attention and that was unnecessary. 
Overall, this was an okay read. I was hoping to like this book more than I did and even though the beginning was great, the finale did not cut it for me.