Hey Bloggers!
Welcome back to:
Rants & Rambles is a weekly feature where I hope to share my own personal thoughts and opinions about both bookish and blogging related topics. As stated, these are MY OWN opinions and while you can choose to disagree with it, I hope that you at least respect it.
---
This week on Rants & Rambles I want to discuss:
Triangles. Squares. Hexagons. Geometrical romances. Love them or hate them, they have become a trending trope in modern day literature. Personally, I don't have a problem with geometrical romances. When done right, they can actually make for a great and entertaining read. But when done wrong…well…let's discuss the pros and cons of geometrical romances in novels!
♥ Thickens the Plot ♥
The new adult genre is known for having plots based solely on a love triangle. When It Rains by Lisa De Jong is one of my favorite NA novels that do just that. This story follows our MC, Kate, who is left completely destroyed after having a traumatic experience. Her best friend, Beau, tries to help, but she fears that no one will believe her, so instead, she shuts everyone out. Asher comes into her life and shows her that she doesn't have to be afraid anymore and he helps her overcome her past and this relationship helps to fix her relationship with Beau. I could not pick a side for this book. Both of our male MCs each help Kate in their own way, showing that when done right, love triangles can have a MEANINGFUL purpose.
♥ Reinforces the Idea of Compromise ♥
I have to disagree when someone says that love triangles are not realistic because they CAN actually happen in real life. It IS possible to love two people, but the love is NOT the same. Love is about compromises. You have to give in order to get and love triangles reinforce the idea of compromise by showing that while our MC may not end up with the person who has everything they are looking for, the person they choose would be the best fit for them. Humans are far from perfect, but we end up with the person who is 'perfect' for us, and that's what these novels try to show us.
 ♥ Entertainment ♥
Geometrical romances can be entertaining! From picking your ship, to defending your ship, these types of romances can actually bring readers together. We all have our guy or girl we want the MC to end up with. We try to highlight their qualities and provide reason for why these two are 'meant-to-be'. I have to say I love defending #TeamRowaelin! Even though we may be on opposite teams, we have fun defending our team and can make the reading experience that much more fun.  
♥ Completely Unnecessary ♥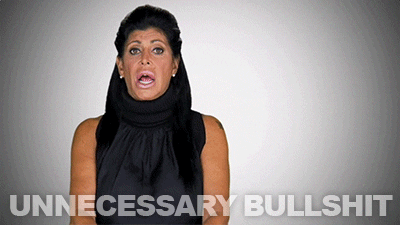 Then there are times where geometrical romances can be completely unnecessary! 99 Days by Katie Cotugno is the perfect example for this scenario. I enjoyed reading the first half of 99 Days. I was so proud of Molly for holding her head up high. She was finding her place again in her little town and then everything went to SHIT! Cue the love triangle and the family affair begins. This book could have been so much better without the love triangle. It could have had a depth, Molly could have been a strong, independent character. DAMN YOU, love triangles!
♥ Overdone & Predictable ♥
I am so tired of reading a book where the two choices are : the bad boy or the best friend. Why can't we have two bad boys, or even two good guys? How about a book where our MC has to pick between a girl or a guy?! Now that would make for a good story (hint, hint). Mix it up a little, make it new, add something different (PLEASE!) because this plot line is becoming TOO REPETITIVE and it's starting to lose its flavor.
♥ Overpowers the Story ♥
When I think of Queen of Shadows by Sarah J. Maas, I don't think about Aelin returning to claim her throne. I don't think about Manon and her struggles to show that she is capable of leading the Ironteeth witches. NO! All I think about it who I ship Aelin with (#TeamRowan, btw!). The geometrical romance in the Throne of Glass series has started to overpower the true plot, which is Aelin trying to take down evil Faes who want to control all the lands. This is a perfect example of where geometrical romances can become too much, which can lead to some readers losing interest in the story and even forgetting why they enjoyed the series in the first place.
---
That is all for this week's Rants & Rambles. I hope you enjoyed my random thoughts!
What are your thoughts about geometrical romances?
Let me know in the comments!