"I tried to live in the world after October fifteenth. I tried and I failed."- Morgan, Underwater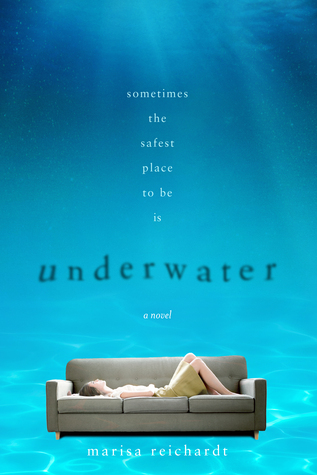 Title: Underwater
Author: Marisa Reichardt
Publication Date: January 12, 2016
Publisher: Farrar, Straus, & Giroux
Links: Goodreads | Amazon | Barnes & Noble | Book Depository
Synopsis via Goodreads: Morgan didn't mean to do anything wrong that day. Actually, she meant to do something right. But her kind act inadvertently played a role in a deadly tragedy. In order to move on, Morgan must learn to forgive—first someone who did something that might be unforgivable, and then, herself.

But Morgan can't move on. She can't even move beyond the front door of the apartment she shares with her mother and little brother. Morgan feels like she's underwater, unable to surface. Unable to see her friends. Unable to go to school.

When it seems Morgan can't hold her breath any longer, a new boy moves in next door. Evan reminds her of the salty ocean air and the rush she used to get from swimming. He might be just what she needs to help her reconnect with the world outside.

Underwater is a powerful, hopeful debut novel about redemption, recovery, and finding the strength it takes to face your past and move on.
Underwater is a YA debut that I had my eyes on for MONTHS! I didn't even know what it was about, but the cover caught my eye and I instantly added it to my TBR. Once I saw five star ratings from Blessie & Tika, I knew I had to get this book, FAST! Let's get this FANGIRL review started!
Underwater is a heartbreaking, yet powerful debut that follows our main character, Morgan, who suffers from PTSD and anxiety after experiencing a traumatic event. Cutting all ties with the outside world, Morgan spends her days at home by herself and only engages in conversation with her mother, brother and psychologist, Brenda. But when a new boy moves in next door, Morgan starts to feel suffocated by these walls and her guilt. No longer wanting to feel like a victim of her own guilt, Morgan starts to break down the walls and with the help from those around, she learns how to breathe again.
DAMN, this BOOK and my FEELS! Right from the first page, I was immediately sucked in. I am a sucker for a good mental health book and this book did a great job when it came to accurately representing Morgan's issues. Day by day, Morgan struggles to find some sense of normalcy, but is held back by guilt and her fears of the dangers of the outside world. She DOES want to get better and we see that, but it's not an easy road. She stumbles and falls a number of times throughout this book, but she NEVER stops pushing forward. At one point, I actually had to put the book down and take a walk during a scene where Morgan is reliving one of her memories because it got DARK, and REAL, and I could not DEAL! 
The overall message of not being a victim and letting fear hold you back is very clear while reading Morgan's story. Try, and if you fall down, try again and I think that's what also makes this book so relatable. Not everyone may have gone through what she did, but the way Morgan felt after this tragedy are emotions that we have all felt before and it makes the book feel so realistic. 
Family plays a major role in this book. Morgan's mom is a single mom who works long hours to take care of both Morgan and her brother, Ben. I LOVED the mother-daughter relationship in this book. It's not easy, but Morgan's mom is there for her and she FIGHTS to help get Morgan better. They have a number of discussions throughout the book, but I felt that the strongest conversations were when no words were said at all and they just held each other in silence.
I also completely ADORED Ben and Morgan's relationship! Although Ben does not fully understand what Morgan is going through, he tries to help her get better. He does little things to keep Morgan smiling and Morgan in return tries to get better in order to keep her promise she made to him. The sibling love just melted my heart!
There is a romance in this book and I loved that it DID NOT take away or overpower the story. Evan's character actually plays an important role in Morgan's recovery because he is the one who sets things in motion and pushes Morgan to want to change. When Morgan pushes, he pushes back. He doesn't sugar-coat the truth for her and he opens her eyes and shows her that so many others were also affected by this tragedy and that she is NOT the only one who is suffering. Also, they were very cute together, so I SHIP THEM! 
I HIGHLY recommend that everyone check out this stunning debut. This book broke my heart and put me back together again and in my opinion, those are the BEST types of books!