"Like I said, everything about me was normal. Until I started losing inches."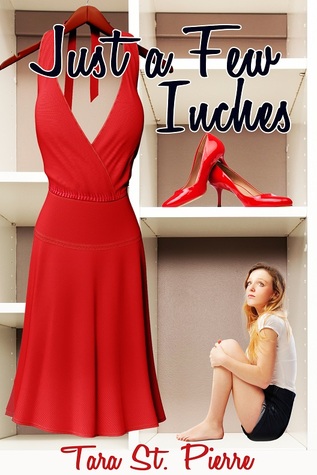 Title: Just a Few Inches
Author: Tara St. Pierre
Publication Date: May 31, 2015
Publisher: Createspace
Links: Goodreads | Amazon | Barnes & Noble | Book Depository
*I received a copy of this book from the author in exchange for an honest review.*
Synopsis via Goodreads: All Carrie Roberts wants is to be a little bit smaller.

To fit into the perfect dress for the Valentine's Day Dance. To look beautiful for her boyfriend, the school's star basketball player. To keep his jealous ex-girlfriend, a rival cheerleader, away from him. And to be noticed by her classmates.

Exercising and dieting don't work, but an advertisement for weight loss pills promises a quicker solution to her problem. As time runs out, she takes more than the recommended dose until she's just a few inches slimmer. Heads turn when she arrives at the dance, and the wonderful night with her boyfriend is beyond what she dreamed it would be.

Days later, Carrie discovers that her body is changing in ways that should be impossible. While her doctor searches for a cure, she desperately turns to her friends and family for support. Everyone is noticing her now whether she likes it or not, and even the media is intrigued by her incredible story. Getting everything she once wanted has created new problems—problems that are growing more terrifying every day.

Because Carrie Roberts is shrinking.
– – – – –
"Just a Few Inches" is a Young Adult novel that deals with issues of body image, self-esteem, and teenage relationships. It is intended for readers age 13 and up.
The cover for this book is okay, nothing really special.
All Carrie wants is to fit into the perfect dress for the Valentine's Day dance, but the dance is one week away and she needs a quick fix, FAST! When she sees an advertisement for dieting pills on TV, she think she's found the perfect solution. Hoping to speed up the process, Carrie takes more than the recommended dose and soon realizes that she is not only losing weight, but also inches!
I enjoyed this book a lot more than I expected. The combination of dieting pills and shrinking makes for such a unique plot. The overall message that this book conveys is so IMPORTANT because I think Carrie's struggle is one that we can all relate to. I also liked how realistic the writing was, minus the whole shrinking thing of course. There was not a lot of fluff or dramatics, which was great because I think it would have taken away from the story. 
Another thing I really liked about this book were the relationships, especially the one between Carrie and her stepsister, Amy. I did not like Amy for the first half of the book. I couldn't understand where her resentment for Carrie came from, but once they had a heart-to-heart and Amy revealed why she felt this way about Carrie, I understood why she must have felt that way. After that, their relationship takes a turn for the better and a strong bond is formed between the two.
♥ Carrie: Carrie is such a relatable character! Body issues and trying to live up to what society has deemed as 'perfect' is a struggle I'm sure many of us can relate to. What I liked most about Carrie was the way she stands up for herself throughout the book. Just because she is getting smaller and smaller each day, doesn't mean she's lost her voice to say what she WANTS and how she FEELS and she definitely doesn't hold back when it comes to stating how she truly feels! Also, she blogs…ummm YES!
There are a number of side characters in this book, like Carrie's family, her two best friends (Trish & Lauren) and Evan (total cutie). They all help Carrie through her struggle and even though they can't fully understand what she is going through, they still try to help Carrie in anyway they can. Their support was the reason why Carrie kept pushing forward and didn't lose sight of the main goal, which was finding a cure. 
I only had two issues with this book. One is that the pacing was a little slow at times. I just felt that some things could have been taken out in order to compact the story to create a better flow. Second, I felt like there was something missing when it came to the ending. Everything was wrapped up a bit too quickly and I just wanted MORE!
Despite my issues, I really enjoyed this book. The last few chapters had me on edge as I was dying to find out if Carrie would ever return to her normal size. It had a great message about accepting yourself and loving yourself no matter what and I would definitely recommend checking this book out!