"I've been seeing the souls of the dead who've left unfinished business on earth for as long as I can remember."- Suze, Remembrance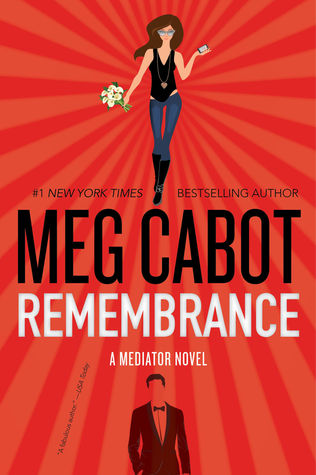 Title: Remembrace
Author: Meg Cabot
Series: The Mediator
Publication Date: February 2, 2016
Publisher: William Morrow
Links: Goodreads | Amazon | Barnes & Noble | Book Depository
*I received an ARC from Edelweiss in exchange for an honest review. *
Synopsis via Goodreads: In REMEMBRANCE, the seventh installment of the Mediator series, all Susannah Simon wants is to make a good impression at her first job since graduating from college (and becoming engaged to Dr. Jesse de Silva).

But when she stumbles across an ancient murder, old ghosts—and ex-boyfriends—aren't all that come back to haunt her.

REMEMBRANCE will be the first ever adult installment of the Mediator, published by William Morrow, the adult division of HarperCollins, the company that brought you the YA books in the series.
I was not feeling the cover at first, but now it's kind of growing on me.
It's been six years since Suze graduated from The Junipero Serra Mission Academy, but now she's back as an intern working while getting in license to become a counselor. She's not only helping the dead, but also the living. She's engaged to Jesse de Silva, future doctor in the making. Everything seems perfect, that is until she gets an email from her old time nemesis, Paul. Throw in an angry ghost and you've got the perfect recipe for disaster!
When I first heard that this series was getting a reboot, I SCREAMED! There was LOTS and LOTS of screaming!
It feels so great to be back in the world of Susannah Simon. I missed the old gang, the ghost ass-kicking action, and most importantly, Suze's SASS! With this being an adult installment, there is less censorship which I loved because Suze definitely has the mouth of a pirate! I really appreciated the fact that the tone of the writing did not change much from the previous books. This book was a bit more serious since the crime committed is a lot darker than the ones we've read before, but the humor was still the same which helped to balance out the story.
Suze and Jesse are also facing their own troubles. Jesse is still stuck in his chivalrous ways and Suze is not having it. It also doesn't help that Paul is up to his old tricks, causing more trouble for the soon to be married couple. Let me just say, I am EXTREMELY happy that this was an adult installment because the romance between Jesse and Suze was…
♥ Susannah: I LOVE Suze! She's one of my ALL-TIME FAVORITE MCs! Her sense of humor was better than ever and the lack of censorship allowed her SASS to be at an ALL-TIME HIGH! I loved that Suze is not only using her gift to help the dead, but also the living as she is a counselor in training. Her methods may be a little unconventional, but they're effective!
♥ Jesse: Jesse went ROGUE! In the previous books, Jesse was usually the more sensible one. He was always thinking things through before taking action, but all of that kind of went out the window this book. He was all about throwing punches and asking questions, and he definitely put his fists to work. But I AM NOT complaining!
♥ Paul: Oh, Paul! Love him or hate him, he sure does make this series entertaining as HELL! Pretty boy does not know how to take hint, but I do think deep down that he really does care for Suze, in his own selfish way. His plot twist totally caught me off guard. I didn't even see that coming, it was CRAZY GOOD!
Aside from our three main characters, I also loved seeing our other characters, like Father D, David, even the Sisters at the Academy. I ADORE the addition of triplets. They were a RIOT and completely adorable, even when they were wreaking havoc!
No issues, WHATSOEVER! It was everything I wanted and MORE!
Overall, this was an AMAZING reboot to one of my FAVORITE series! This book completed the series quite nicely and wrapped up all the loose ends and it was BEAUTIFUL! SO MUCH LOVE!