"Other people aren't as cut-and-dry as you think. Everyone's got stuff they hide."- Lucas, Seven Ways We Lie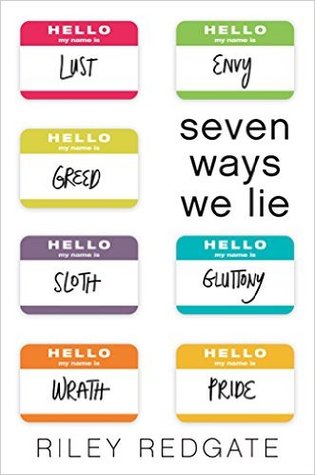 Title: Seven Ways We Lie
Author: Riley Redgate
Publication Date: March 8, 2016
Publisher: Amulet Books
Links: Goodreads | Amazon | Barnes & Noble | Book Depository
*I received an ARC from Netgalley in exchange for an honest review. *
Synopsis via Goodreads: Paloma High School is ordinary by anyone's standards. It's got the same cliques, the same prejudices, the same suspect cafeteria food. And like every high school, every student has something to hide—whether it's Kat, the thespian who conceals her trust issues onstage; or Valentine, the neurotic genius who's planted the seed of a school scandal.

When that scandal bubbles over, and rumors of a teacher-student affair surface, everyone starts hunting for someone to blame. For the unlikely allies at the heart of it all, the collision of their seven ordinary-seeming lives results in extraordinary change.
The cover is okay. Simple, which I like.
When a scandal hits Paloma High School, it forever changes the lives of seven individuals as try to figure out whose to blame, while all at the same time having to deal with issues of their own.
I was a little put off by this book at first because of the seven POVs. I wasn't really sure that it was going to work, but it turned out better than I expected! Each character had their own distinct voice so there was no overpowering of POVs. They were each unique and diverse in their own way. These characters were so dimensional, the LAYERS! Chapter after chapter, we got to know a little bit more about each character and even though they all had their separate issues, these issues also connected them and strengthened their bond with one another as they helped each other tackle their problems.
The writing was great. Simple, easy to read and at times, even poetic. From slut-shaming, to dysfunctional families, this book tackles and number of issues. There is a teacher-student relationship in this book and while I was not a fan, it did make for a crazy PLOT TWIST! 
By the time I reached the 50% mark, there was a lot of hyperventilating and use of explicit language because SH!T HIT THE FAN! I could not put this book down and I was just hoping that everything worked out in the end!
♥ Olivia: FAVORITE character out of the bunch! Olivia is not only tying to keep her family from falling apart, but she also has to deal with being slut-shamed by her peers. I have to say, Olivia is one TOUGH cookie! Even with everything that is going on in her personal life, she still finds a way to help her friends with their issues. She is also the character I related most to.
♥ Matt: Hoping to end the non-stop fighting between his parents, Matt struggles to find a way to tell his parents how their constant bickering is affecting both him and his little brother. I wanted to write Matt off as your typical "stoner-boy" at the beginning, but I'm glad that I didn't because there is more to him than meets the eye.
♥ Kat: Still harboring feelings of hate after being abandoned by her mother, Kat isolates herself from reality and spends most of her time in the gaming world. The only time she feels like herself is when she is on stage, playing the role of someone else.  Kat's attitude seriously PISSED me off throughout this book, but at the same time, I understood why she felt that way. I loved reading about the moment where she realizes that people DO care for her and that even though she doesn't have her mother, she still has a family.
♥ Lucas: Comfortable in his own skin, but not comfortable enough to let others know who he truly is, Lucas tries to find a balance between "being who others perceive him to be" and "being who he really is". I REALLY liked Lucas. His personality was my favorite thing about him. I'm really happy with how things turned out for him, even though it may not have been how he wanted things to happen in the first place.
♥ Valentine: OMG, a character with Asperger! LOVE IT! A loner at the beginning of the book, Valentine is on his own path to self-discovery. He ends up developing a strong bond with Lucas and realizes that there ARE good people out there and he even stands up for himself a few times.
♥ Claire: Probably the character I was most annoyed by, Claire is a very selfish person throughout most of the book. She does redeem herself by the end of the book, but I still think she has a long way to go when it comes to being confident in her own skin.
♥ Juniper: Juniper's POV were probably the hardest for me to read because they are ROUGH! They are written in verse and it's like she is an outsider looking in on her own life. She has detached herself from reality because she feels so alone and doesn't know who she can turn to, which eventually leads to self-destructive behaviors.
The only issue I had with this book was the getting started part. It's SEVEN POVs! I had to get used to each character's voice, but once I figured them all out, it was smooth sailing from there!
Overall, I would HIGHLY recommend checking this book out! With its diverse characters and issues, everyone will find something, or someone, to relate to in this little debut! I know I SURE did!