"I had a hundred and seventeen days in which to convince Will Traynor that he had a reason to live."- Louisa, Me Before You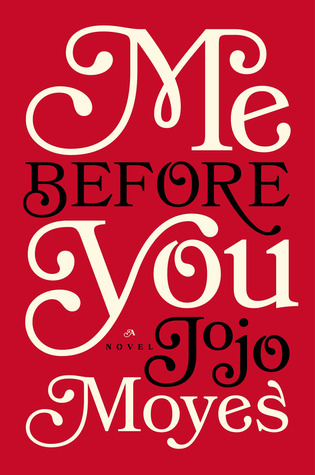 Title: Me Before You
Author: Jojo Moyes
Series: Me Before You
Publication Date: December 31, 2012
Publisher: Pamela Dorman Books/Viking
Links: Goodreads | Amazon | Barnes & Noble | Book Depository
Synopsis via Goodreads: Lou Clark knows lots of things. She knows how many footsteps there are between the bus stop and home. She knows she likes working in The Buttered Bun tea shop and she knows she might not love her boyfriend Patrick.

What Lou doesn't know is she's about to lose her job or that knowing what's coming is what keeps her sane.

Will Traynor knows his motorcycle accident took away his desire to live. He knows everything feels very small and rather joyless now and he knows exactly how he's going to put a stop to that.

What Will doesn't know is that Lou is about to burst into his world in a riot of colour. And neither of them knows they're going to change the other for all time.
Raise your hand if you've ever felt personally victimized by a book!
Me Before You is the perfect example of why I AVOID reading adult contemporaries! They are NOT always hearts and flowers and tend to be a more accurate representation of reality compared to YA contemporaries. IT GET'S REAL and I do NOT like it! Let's get this review started.
After the tea shop she is working at closes down, Louisa starts her search in looking for a new job. She lands a job as a carer for a young man, who after being involved in a motorcycle cycle accident, is left wheelchair bound with very little desire to continuing living. Hoping to change Will's mind and lift his spirits, Louisa devises a plan to show Will that his life is not limited just because he is in a wheelchair. What Louisa doesn't plan on is Will changing her life, causing her to question her own life choices and what it means to really live.
I had originally planned on reading Me Before You back in May, but put it down because I was not in the mood for contemporaries. After the trailer was released, I knew I had to pick this book up, ASAP! 
The first 80% of this book was really light and easy to read. We have our MC, Louisa, who doesn't have a clue about what she wants to do with her life. She is twenty-seven-years-old, still living at home wit her parents and is in a relationship that doesn't seem to be going anywhere. Then we have Will, who before his accident, lived a pretty extravagant lifestyle. Now, he spends most of his days in bed with no motivation to keep living.
I thought Louisa and Will complimented each other quite nicely as they were complete opposites. Louisa is literally like a ray of sunshine and Will is the dark cloud on the horizon threatening to rain on her parade. I loved the banter between the two because Louisa did not put up with Will's attitude. She does not sugar-coat things and this took me by surprise because I had first pegged Louisa as being a bit naive and a pushover, but boy was I wrong. She actually stands her ground and does the opposite of what I expected her to do when it came to making difficult decisions. 
Family played a big role throughout this book. Louisa's family is a close-knit bunch who are always there for each other. Even when they are fighting, they still loved each other. On the other hand, we have Will's family who total opposite of Louisa's family. They have grown apart since Will's accident and even though Will's mom tries to keep everyone close, the damage is already done. Both families also play a huge role in the overall plot because Louisa is being pulled by both sides, where her family feels that she is taking on too much when it comes to Will, while Will's family are banking on her get Will to change his mind. This conflict leads to Louisa having to make an important decision that could change her relationship with both families. 
So now on to the heartbreak. The last 20% was the most difficult to read because things start falling apart from here on out. Louisa ends her relationship with her long-time boyfriend. She also admits to having feelings for Will and even though he too feels the same, IT IS NOT ENOUGH! Cue the tears!
Will still intends to go through with his plan and Louisa has failed in changing his mind. Whether or not you support Will's decision, I think we can all agree that it was NOT an easy one and this just shows that LOVE does not conquer all. There are so many other factors that need to be considered and while letting go may be hard, it may be the best option for that person. But DAMMIT Will, WHY?!
This book BEAUTIFUL, HEARTBREAKING, and REAL! It just goes to show that our lives are precious, and if this book has taught me anything, is that we should JUST LIVE because anything can happen in the blink of an eye. READ THIS BOOK and CRY. Now I need June 3rd to hurry up so I can hold the book while watching the movie and CRY some more!