"He's totally had my back, and because of him, I was able to lower my guard for the first time in a very long time."- Hannah, The Deal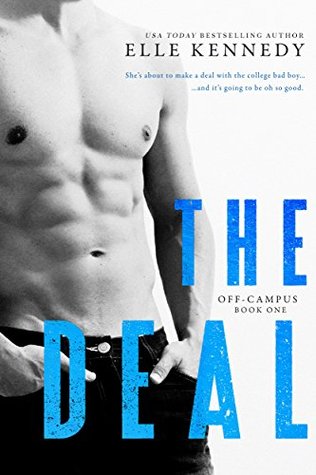 Title: The Deal
Author: Elle Kennedy
Series: Off-Campus
Publication Date: February 24, 2015
Publisher: Self-published
Links: Goodreads | Amazon | Barnes & Noble | Book Depository
Synopsis via Goodreads: She's about to make a deal with the college bad boy…

Hannah Wells has finally found someone who turns her on. But while she might be confident in every other area of her life, she's carting around a full set of baggage when it comes to sex and seduction. If she wants to get her crush's attention, she'll have to step out of her comfort zone and make him take notice…even if it means tutoring the annoying, childish, cocky captain of the hockey team in exchange for a pretend date.

…and it's going to be oh so good.

All Garrett Graham has ever wanted is to play professional hockey after graduation, but his plummeting GPA is threatening everything he's worked so hard for. If helping a sarcastic brunette make another guy jealous will help him secure his position on the team, he's all for it. But when one unexpected kiss leads to the wildest sex of both their lives, it doesn't take long for Garrett to realize that pretend isn't going to cut it. Now he just has to convince Hannah that the man she wants looks a lot like him.
Why didn't I pick this book up sooner?!
I basically sound like everyone on Goodreads who is now reading this book! But seriously, I think the Off-Campus series may be a new FAVORITE!
Garrett Graham: Captain of the hockey team and BMOC, Garrett knows how to score both on and off the ice.
Hannah Wells: Music major and all around good girl, Hannah as never been one for the social crowd.
But their two worlds are about to collide after Garrett flunks his midterm and is in desperate need of a tutor. Hoping Hannah will help him ace his make-up exam, Garrett promises to help her land a date with her forever crush, Justin Kohl. What these two don't know is that their little deal may turn into something that neither one was expecting.
This book was HILARIOUS! I seriously could not stop laughing!
I was so amused by the the banter between Garrett and Hannah. These two together were a riot! Garrett knew how to push Hannah's button and Hannah just pushed right back.
I'm such a sucker for the 'Enemies to Lovers' trope and watching the relationship develop between these two was entertaining, yet at the same time I wanted to pull my hair out because they were taking FOREVER just to admit their feelings for one another. No INSTA-LOVE here! Garrett is such a sweet-talker, but Hannah is not falling for it. Once these two actually put their difference aside and see each other for who they really are, Hannah realizes that Garrett is one of the good guys and she can trust him. 
The friendship were another plus for me! There was never a dull moment when Garrett and his housemates got together! Allie and Hannah's friendship game was so strong. They were always there for each other and nothing could come between these two.
But seriously, we all know the BEST part was when Hannah walked into the locker room filled with naked guys! Cue my UNCONTROLLABLE laughter!
I think what I liked most about this book were the underlying issues that Garrett and Hannah were both dealing with: Garrett with his abusive father and Hannah with learning to let go. 
Garrett has basically been on his own for a while and his biggest fear is becoming like his father. Hannah reassures him that he will never be anything like his father and her confidence in him makes cutting ties with his father that much easier. 
After years of therapy and overcoming her rape, Hannah still struggles with letting herself go. Even though she has been with other guys after her assault, she still struggles with being intimate with them and seeing her finally let her walls down and trusting Garrett was so sweet!
So MUCH love for these two!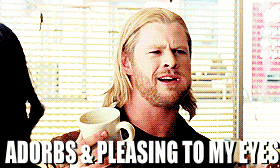 I HIGHLY recommend checking out this series if you are a lover of NA and is looking for a book that will make you Laugh-Out-Loud!
I can't WAIT to pick up The Mistake to read Logan's story. I'm such a sucker for side character's and he was one of my FAVES! I hope the second book is just as entertaining as the first!