"To have everything and feel nothing was the worst kind of selfishness."- Ellie, Beautiful Burn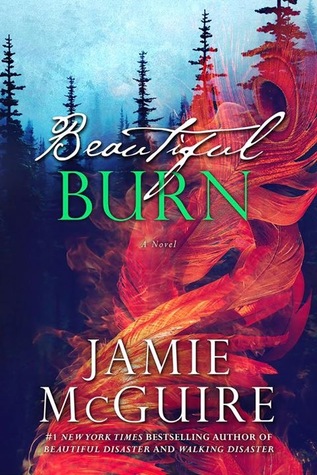 Title: Beautiful Burn
Author: Jamie McGuire
Series: The Maddox Brothers
Publication Date: January 31, 2016
Publisher: Createspace
Links: Goodreads | Amazon | Barnes & Noble | Book Depository
Synopsis via Goodreads:Fresh out of college, Ellison Edson has fallen through the cracks of rock bottom. While staying in her family's vacation home in Colorado, her behavior has finally gained the attention of her parents—but not in the way she hoped. Cut off from the millions she's always taken for granted, and left alone to fend for herself, Ellie spirals further out of control, making a mistake she can't take back.

Like his twin brother Taylor, Tyler Maddox is a member of the Alpine Hotshots, fighting wildland fires on the frontline. As arrogant as he is charming, Tyler's nomadic lifestyle makes it easy to contain his relationships to one night. When he meets Ellie at a local party during off-season, her extreme personality and dismissive attitude fascinates him at first, but as his feelings deepen, Tyler realizes that the crippling inner demons of the woman he loves might be the strongest enemy any Maddox has ever faced.
Jamie McGuire's book have always either been a hit or miss with me and after being so disappointed with Beautiful Sacrifice, I was extremely hesitant to pick up Beautiful Burn. Luckily, I really enjoyed Beautiful Burn! It was not at all what I was expecting and I think I may be one of the few people who actually like Ellison.
Ellison Edson, the girl who has it all! Well, that is until her parents cut her off after one of her house parties gets a little too out of hand. Fed up with her antics, Ellie's parents hope that by cutting her off, she will finally learn how to take responsibility for her actions. But that is easier said than done, as Ellie's life begins to spiral out of her control and she struggles to keep her head above water.
Tyler Maddox knows that Ellie is nothing but trouble and despite her constant rejections, he doesn't back down. He knows that there is good underneath her tough exterior and knows that she's worth the fight. So used to saving people, Tyler doesn't realize that the only person who can save Ellie, is Ellie.
The final installment in The Maddox Brothers series took me by surprise. Ellie and Tyler were always a mystery to me because McGuire never goes into much detail about their relationship in the previous books. I always pegged Ellie for the "good-girl" type and she is most certainly NOT! Ellie has to be one of the MOST unlikable character I have ever come across. She is rude, selfish, one might even say ungrateful. She is flawed, in more ways than one, BUT even though I initially hated her, I grew to love her. Ellie's struggles makes her both relatable and realistic and I think that is what kept me reading because I was pretty annoyed with her at the beginning.
What I liked most about Ellie and Tyler's relationship was that it was NOT co-dependent. Yes, Tyler tried to help Ellie and he wanted to be her hero (not that I could blame him as saving people is a requirement of his job), but ultimately, Ellie had to decide if she wanted to be saved in the first place and the only person who could answer that question was Ellie. She had to decide whether or not if she wanted to get professional help for her issues and the only way she was going to figure that out was by hitting rock bottom, falling down so far that the only other direction she could go after that was up. Seeing Ellie pick herself up and push to get help was probably the part I enjoyed the most, and of course, Tyler was there for her when she was ready to take the next step with him in their relationship.
Like all of Mcguire's books, family plays a major role in this book and the Edson family is definitely a dysfunctional one. I don't think I've ever hated a family like I HATED the Edsons. Ellie's parents are never present, which is the main reason why Ellie began acting out in the first place. Even after Ellie manages to get a job to support herself, her parents still try to discount her successes and I just couldn't understand how her parents could to do that! Ellie's relationship with her sister, Finley, also annoyed me. I thought her sister would at least be in her corner and while it does look like Finley has Ellie's back in the beginning, at the end of the day, Finley is only looking out for Finley. I didn't understand their relationship AT ALL and Finley does some pretty underhanded things that I thought were unforgivable, but that's just my opinion.
In your typical New Adult fashion, this book does end with a happily ever after. I DO think that Ellie deserved it. I think she earned it! She fell flat on her face and she was able to pick herself back up. She stood up for herself and her decisions, even when her parents disagreed. In the end, Ellie learned to love herself and that was the first step for her to becoming a better person and I truly enjoyed seeing Ellie's transformation.
The ending of this series is a bittersweet because although I LOVE the Maddox brothers OH-SO-MUCH, I think it's time for their story to come to a close. I'm excited to read some new work from McGuire that doesn't revolve around the five brothers and hopefully I will enjoy those books as much as I enjoyed this series!