"Sometimes a person has to let go of something to take hold of something else. You always have to choose what's more important."- Slate, The Girl From Everywhere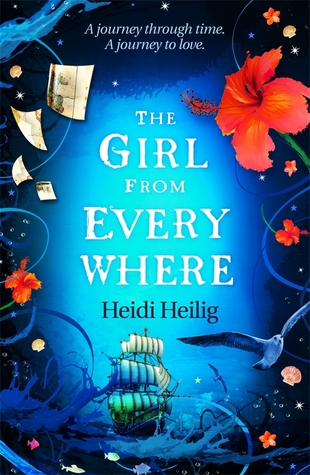 Title: The Girl From Everywhere
Author: Heidi Heilig
Series: The Girl From Everywhere
Publication Date: March 3, 2016
Publisher: Hot Key Books
Links: Goodreads | Amazon | Barnes & Noble | Book Depository
*I received an ARC from Netgalley in exchange for an honest review. *
Synopsis via Goodreads: It was the kind of August day that hinted at monsoons, and the year was 1774, though not for very much longer.

Sixteen-year-old Nix Song is a time-traveler. She, her father and their crew of time refugees travel the world aboard The Temptation, a glorious pirate ship stuffed with treasures both typical and mythical. Old maps allow Nix and her father to navigate not just to distant lands, but distant times – although a map will only take you somewhere once. And Nix's father is only interested in one time, and one place: Honolulu 1868. A time before Nix was born, and her mother was alive. Something that puts Nix's existence rather dangerously in question…

Nix has grown used to her father's obsession, but only because she's convinced it can't work. But then a map falls into her father's lap that changes everything. And when Nix refuses to help, her father threatens to maroon Kashmir, her only friend (and perhaps, only love) in a time where Nix will never be able to find him. And if Nix has learned one thing, it's that losing the person you love is a torment that no one can withstand. Nix must work out what she wants, who she is, and where she really belongs before time runs out on her forever.
The UK cover for this book is ABSOLUTELY GORGEOUS! I can't stop looking at it.
Life at sea is the only life that Nix Song has ever known. She has spent sixteen years aboard The Temptation with her father, Slate, and his crew, traveling through time and space in search of one thing: a map. Not just any map of course, but a map that will take them back to Honolulu 1868, back to Slate's only love and Nix's mother, Lin. But when Slate's obsession goes too far and threatens the life of someone she cares about, Nix has to decide how far she is willing to let Slate's obsession go and fast, before she too becomes lost in time.
I went into this book hoping for adventure! Time-travel? Pirates? Maps? A journey to reunite with one's lost love? What more could I ask for? Unfortunately, this book did not work for me. The writing for this book was BEAUTIFUL! Heidi definitely has a way with words as the story was full of imagery and it was so detailed to the point where I felt like I was at Honolulu. But there were some points where it was a bit too detailed and it just left little to the imagination and sometimes I want to be able to let my own imagination run wild while reading and I wasn't able to that with this book.
The pacing for this book was slow. I struggled through the first 40% of this book because the only thing that was really happening was that our characters were looking for the map that would help them find Nix's mother. One thing I didn't really like was the info dump of historical references and myths. They were interesting to read, but I wish they would have been better weaved into the story instead of just having to read two to three pages of just information. It took away from the story and I eventually just ended up skimming through those parts.
 The thing that I was most confused about the time-traveling and HOW it exactly worked. We don't get an explanation until about 70% of the book and honestly, I didn't really like the explanation. I guess I was hoping for something exciting, something more.
♥ Nix: I don't exactly know how I feel about Nix. I don't hate her, I don't love her, but she did frustrate me at times. Nix struggles with deciding if helping her Slate return to 1868 is worth it because she doesn't know how this will affect her own future. She constantly talks about leaving The Temptation and going off on her own, BUT she doesn't really DO anything. She always ends up putting her own feelings aside and going along with whatever Slate tells her to do. I think she does love her father more than she wants to admit, but I just wish she would've stood up for herself more and spoken up sooner and not had waited until the end!
♥ Kashmir: So Kash is the potential love interest in this book, although I didn't really feel the love for Kash. It's pretty obvious that Kash has feelings for Nix, but I don't think that Nix was picking up what Kash is putting down. He was entertaining and he was there for Nix needed to vent, but I think these two are better off as just friends.
♥ Slate: I actually liked Slate. He was quite the character, even though he was in an opium-induced state for majority of the book. Slate is a man in love and he will LITERALLY go to the ends of the Earth just to get the love of his life back. He's completely selfish and has no regards for Nix's well-being, UNTIL the very end. I liked that Slate was this flawed, unlikeable character, and he did eventually see the error of his ways and he was the reason why I kept on reading.
My main issue with this book was that there was NO CONNECTION for me. I didn't feel anything for our characters, I wasn't moved my the story and I seriously had to force myself to keep on reading. The writing was beautiful, but it didn't compensate for the flat plot line. I just wanted more. I kept reading hoping for something exciting to happen, but it never really came.
Although this is a duology, I don't think I will be picking up the second book. This book doesn't really have a major cliff-hanger, but the ending allows for a number of possibilities when it comes to the second book and where Nix's story can go. I kind of think that the ending could stand on it's own because even though the things didn't pan out like our character's wanted to, decisions were made that ended up changing the original direction of the book and it worked out in the end. Like I said before, this book just did not work for me. My thirst for adventure was not satisfied and I left with this need of wanting more!