"Sometimes people put up walls, not only to keep people out, but also to see who cares enough to tear them down."- Erika, Bad Romeo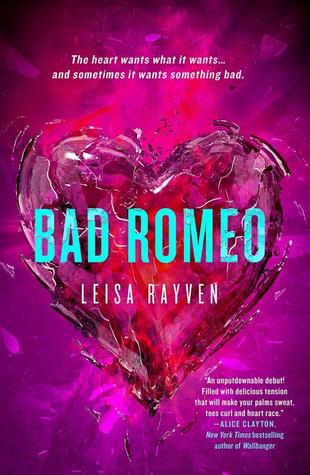 Title: Bad Romeo
Author: Leisa Rayven
Series: Starcrossed
Publication Date: December 23, 2014
Publisher: St. Martin's Griffin
Links: Goodreads | Amazon | Barnes & Noble | Book Depository
Synopsis via Goodreads: When Cassie Taylor met Ethan Holt at acting school, sparks flew. She was the good girl actress. He was the bad boy about campus. But one fated casting choice for Romeo and Juliet changed it all. Like the characters they were playing, Cassie and Ethan's romance seemed destined. Until he broke her heart and betrayed her trust. Now the A-list heartthrob is back in her life and turning her world around. One touch at a time.

Cast as romantic leads once again, they're forced to confront raw memories of the heartbreaking lows and pulse-pounding highs of their secret college affair. But they'll also discover that people who rub each other the wrong way often make the best sparks.
I don't think I've ever loved and hated a series as MUCH as I do with the Starcrossed series. These two characters frustrated me to no end, yet I could not stop reading. This story sucks you in right from the start and I needed to know HOW this tragic romance was going to end. My poor heart was in for a doozy!
The moment Cassie Taylor laid eyes on Ethan Holt, she knew she was in for trouble. A bad boy unable to control his emotions, Ethan knows that staying far away from Cassie is the best thing to do, for both of their sake. But their attraction is too strong and with an undeniable chemistry, the two are cast as the lead roles for the play, Romeo and Juliet. Sparks fly and the two give into their desires, but with Ethan unable to let go of his fears, the relationship goes south, leaving Cassie brokenhearted and alone.
That was three years ago…
Now, fate has brought these two together as they are once again cast as the lead roles for a upcoming play. This time, the roles have reversed as Cassie struggles to let go of her fears in order to let Ethan in. Can these two overcome their issues and finally find happiness, or will their story end like Romeo and Juliet's, a tragedy.
First and foremost, let me just say that the ANGST in this book was KILLER! You literally feel the sexual tension between these two.
The chemistry between Ethan and Cassie is UNDENIABLE. They are two passionate people, both on and off the stage, who feel with EVERY fiber of their being. Although the back and forth between these two had me pulling at my hair, I couldn't help but hope that things worked out for these two because they deserved it. I mean Ethan is basically putting everything on the line, he's showing all his cards when he returns to win back Cassie's heart. GOD, I love present day Ethan SO MUCH!
The banter between these two was entertaining as Cassie is a bold and is always speaking what is on her mind. She's very hesitant and she has every right to be as she's been down this road before. I initially thought that the reason for why Ethan acts the way he does was going to be ridiculous, but he has legitimate reasons for why he treated Cassie the way he did. Dude has some major issues when it comes to trust and letting people in and I think he made the right choice when it came to letting Cassie go because HOW was he going to love her if he didn't even like who he was? Seeing him change and become a better person not only for Cassie, but for himself was so touching.
My favorite thing about this book has to be the WAY it was written. The chapters are split into two parts: one which shows the couple in the present and one which shows the couple six years ago. I loved how the two paralleled each other because we would be reading the events going on in the present and the interaction between these two, and then we would jump to six years ago and see how they interacted in a similar situations then. In the past, Ethan was the one holding back and Cassie was the one who kept pushing for more, but in the present, the roles are reversed which led to me feeling so conflicted because I was loving the past Cassie and hating the past Ethan, but then in the present, I was loving Ethan and hating Cassie. DO YOU SEE MY STRUGGLE?! 
So of course the angst wasn't enough as this book also ends with a CLIFFHANGER! Send help!
Overall, I'm so happy that I decided to pick up this book, even though I could've done without all that angst. This book is going to be a hit or miss with readers, but fans of New Adult should definitely check out this series. I've already read the sequel and I gosh I LOVED IT! So much angst, but the ending was so worth it!