"Love is love. Passion is passion. And people who are lucky enough to feel it should grab it with both hands."- Erika, Broken Juliet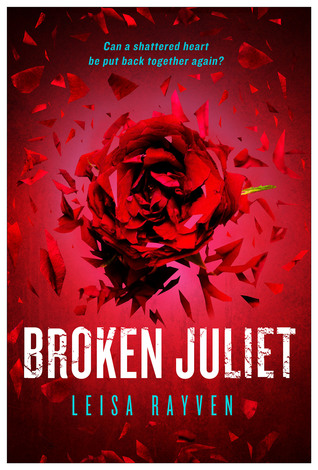 Title: Broken Juliet
Author: Leisa Rayven
Series: Starcrossed
Publication Date: April 28, 2015
Publisher: St. Martin's Griffin
Links: Goodreads | Amazon | Barnes & Nobles | Book Depository
Synopsis via Goodreads: How do you fix a love that's been broken beyond repair?

For years, Cassie Taylor tried to forget about Ethan Holt. He was the one great love of her life, and when he failed to return her love, a part of her died forever. Or so she thought. Now she and Ethan are sharing a Broadway stage, and he's determined to win her back. Claiming to be a changed man, he's finally able to say all the things she needed to hear years ago, but can she believe him? What makes this time different from all his other broken promises?

Ethan knows he can't change their tumultuous past, but if he's going to have any chance of being with the woman he loves, he'll need to convince Cassie that her future belongs with him.

Don't miss this stunning conclusion to the unforgettable love story that captivated over two million fans online.
Immediately after having finished Bad Romeo, I started Broken Juliet. With a cliffhanger ending, I NEEDED to know what was going to happen next. Once again, these two frustrated me to know end, but surprisingly, I enjoyed this book a lot more than the first book (HOW IS THIS POSSIBLE?!). Without further ado, let's see how this dramatic romance ends!
Picking up right where the first book ends, Ethan Holt is standing outside Cassie Taylor's apartment, begging for a second chance. A new beginning. With her hand on the knob, Cassie has to decide whether she wants to let Ethan in, back into her life, back into her heart. What she decides will either make them or break them, forever changing their lives. In the epic conclusion to a dramatic romance, will this be the end of Ethan and Cassie, or a new beginning for these star-crossed lovers?
Like I stated in my previous review of Bad Romeo, the ANGST in this book was KILLER! It was PURE PHYSICAL TORTURE!
This romance is slowed down a bit in this book, especially since there are longer scenes with our characters in the present. We start to see how events from the past are coming back to haunt both our characters and the affects they have on this relationship. We also see the break-up and get a better understanding of why Cassie is so guarded. Ethan definitely put her through the ringer. His insecurities took over to the point where it didn't matter what Cassie said or did, he would never feel that he would be good enough for her.
One of my favorite parts was learning about Ethan hitting rock bottom, only to finally suck it up and start climbing back to the top. He worked on himself, pulled his life together and became a better person. I don't think I can say it enough, but I LOVE present day Ethan! His character development was well-done and I loved seeing him grow and become that amazing guy in the end.
My other favorite part were Cassie's therapy sessions. I don't know about anyone else, but I may have shed a tear or two while she relived the past and expressed her greatest fears about her future with Ethan. I was really annoyed with Cassie during the first half of this book, but I couldn't stay angry at her for long because REASONS that I cannot state as they are TOO spoilery!
The writing was beautiful, so many quotable quotes! The pacing was great and you could feel the struggle between these two as well as the internal struggle Cassie was having with herself. The bringing together of the past and the present was executed quite nicely as the past events seamlessly connected with the events in the present. Now while this romance annoyed me because things were taking TOO LONG to happen, I have to admit it was well worth the wait. These two know how to shine both on and off the stage and the finale was beautiful!
I have become a FAN of Leisa Rayven's writing and I eagerly await the third book in this series. I have no doubt that I will enjoy it just as much as the previous books in this series, but I really hope there is not as much angst. I don't think I would make it through a third round of an angst-filled book. NOT AGAIN!