Hey Bloggers!
Welcome back to:
Rants & Rambles is a weekly feature where I share my own personal thoughts and opinions about both bookish and blogging related topics. As stated, these are MY OWN opinions and while you can choose to disagree with it, I hope that you at least respect it.
---
This week on Rants & Rambles I want to discuss:
For majority of us, book blogging started out as a hobby. A simple way to allow for self-expression, a little corner of the interweb that we claim as our own where we fangirl/fanboy our hearts out. But after a while, we realize that blogging can sometimes become like a second job. From scheduling posts to making graphics, from thinking of creative blogging topics to responding to emails, blogging is not as easy as it seems. While it does require devotion, I don't think blogging should be stressful. If your not having fun, then what is the point?
 Here are some things I feel that as book bloggers we need to STOP feeling  guilty about:
♥ Not Daily Blogging ♥
IT IS OKAY if you don't want to plan a post for everyday of the week. We all have a life outside of blogging and sometimes trying to balance real life and blogging life can become a bit stressful. Between day jobs to final exams, sometimes we need a break from it all so skipping a few days here and there is OKAY. Blog at your own pace, it is NOT A RACE!
♥ Not Having an "Active" Social Media Presence ♥ 
I know I suck at being social online. It's HARD to think of things to tweet about and most of the time I just end up not tweeting at all. Also, I don't always have the time to be active on social media. My day job requires me to interact with a number of different people on a daily basis so sometimes I just don't feel like interacting with others once I get off work. I think what matters most is just being friendly and so far that has been working fine for me.
♥ Taking a Hiatus ♥
A hiatus does not necessarily have to be a bad thing. Think of it as a vacation, taking time to pamper yourself, allowing you to unwind. As bloggers, sometimes we need to take a break from blogging so we can come back refreshed with new ideas. Coming back with a BANG is always fun and just because your not blogging doesn't mean you will be forgotten. 
♥ Not Reading & Reviewing ALL the ARCs ♥
YOU DON'T have to read and review all the ARCs you may receive from a publisher. Unless you requested a particular ARC or you signed up for a blog tour, you are not obligated to read or review every single book you receive from a publisher. THERE IS just NOT enough hours in the day to read all the books, so read the ones you want and for the ones you know you won't ever read, maybe give them to a friend who does want to read them. It is a WIN-WIN for everyone.
♥ Abandoning TBRs ♥
I do this on a monthly basis and I feel the guilt ALL THE TIME! It's only the 4th day into March and I have already abandoned my TBR for this month. I know I have books that I need to get to before their publication date, but I can't bring myself to read them right now. I've been working on not feeling so guilty about my sudden need to mood read and it's going to take some time, but I think I'm slowly coming around to the idea.
♥ Not Loving an Overhyped Book ♥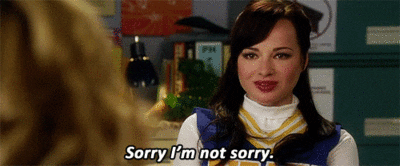 We are NOT all going to like the same books, so don't be afraid to say you didn't like a particular book, even if every single one of your blogger friends love it to death (unless it's Harry Potter, then I don't think we can be friends!). Sometimes, hype can affect how we feel about a book and I personally feel that if one can support their reasons for why  they didn't like book then that should be acceptable enough.
♥ Falling into Reading Slumps ♥
Reading slumps are GOOD. They are not your enemy! Going from book to book can be exhausting, so take a break and binge watch #the100 on Netflix. This also helps when your reading books with similar plot lines because when things become repetitive, they become boring which may lead to A LOT of negative reviews and RAGE!
♥ Not Completing Goodreads Challenge ♥
Giving it your best effort is all that really matters when it comes to completing your Goodreads challenge. I think setting a goal is fun and striving to reach said goal can be rewarding, but it shouldn't be required. Read what you want, when you want, it doesn't matter. We all love books and the fact that we can all share our love for books together is truly a wonderful experience!
---
Blogging should be fun and we shouldn't forget that. If you start to feel overwhelmed, take a break and then come back. Just because you're not out on the field, doesn't mean you're still not in the game. Blog FOR YOU and really that is the ONLY THING that should matter.
That is all for this week's Rants & Rambles. I hope you enjoyed my random thoughts!
What are some things that you feel guilty about as a book blogger?
Let me know in the comments!