Hey Bloggers!
Welcome back to:
Rants & Rambles is a weekly feature where I share my own personal thoughts and opinions about both bookish and blogging related topics. As stated, these are MY OWN opinions and while you can choose to disagree with it, I hope that you at least respect it.
---
This week on Rants & Rambles I want to discuss:
PROCRASTINATION!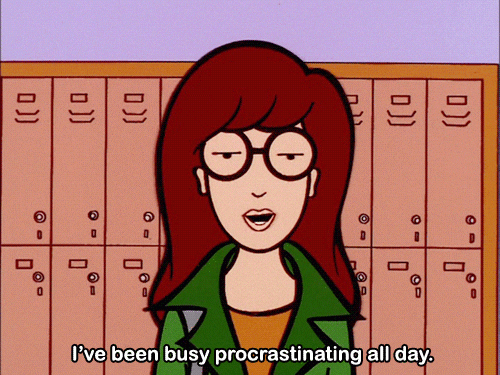 I AM THE QUEEN OF PROCRASTINATION! I kid you NOT! I was that girl in college who printed out a ten-page 2 minutes before class started. My procrastination habit has stuck with me even after I graduated and it's a habit I'm not ready to kick just yet. I procrastinate writing pretty much every post I write, including this one. Guess how I got my idea for this post?
This discussion is basically just me being a TROLL and making fun of my own blogging process and all the things I do before I actually sit down and write a post. I have the attention span of a goldfish and I am easily distracted so majority of the times I end up not finishing a post until 1 in the morning. Please say I am not alone in this struggle!
Here are a few things I do to avoid writing up a blog post: 
♥ Streaming Netflix ♥
Can you say #JessicaJones? Launching that Netflix app is one of the first things I do when I don't feel like blogging. Whether I'm binge watching a new show or catching up on a old favorite, I can always count on Netflix to provide the perfect distraction when I don't want to blog. 
♥ Binging on Booktube Videos ♥
Catching up on my favorite booktubers is another great way to put off writing a post. Binge watching videos on Youtube in general a great distraction. I always end up adding new books to my TBR after my booktube binge because I clearly don't have enough books on my TBR!
♥ Checking Your Feed ♥
Time to stalk the lives of my fellow bloggers. Just kidding (for the most part). But really, YOU ALL KNOW you do this. Do I really need to explain this one?
♥ Food, Food, Food ♥
Because writing on an empty stomach helps no one! I had actually sat down and written the title for this post and then a brilliant thought came to mind: I NEEDED ICE CREAM! Of course I grabbed a cup and I ended up watching an episode of Catfish. An hour wasted away on eating ice cream, when I probably could've had written 50% of this post!
♥ Read, Read, Read ♥
And of course I had to include the most obvious distraction of all: READING! Lately, I've been catching up on some of my Wattpad books and because the chapters are so short, I usually end up reading a full book and then I will put down my iPad to start my post. Wattpad books are such quick and easy reads so why not squeeze one in before getting started on that post?
---
I'm not quite sure how well this discussion will go over, but I think procrastination is something that we all do, whether we want to admit it or not. I tend to write best when I'm under pressure which is one of the main reasons why I put off writing posts. I also tend to write best at night. I am a TRUE night owl at heart! I know that blogging would be less stressful if I planned everything out beforehand, but I honestly wouldn't have it any other way.
That is all for this week's Rants & Rambles. I hope you enjoyed my random thoughts!
What are some things you do to avoid writing up a blog post? 
Let me know in the comments!