"The best way to get over someone is to hook up with someone else. ASAP. Seriously, just find yourself a rebound. I volunteer as tribute."- Dean, The Score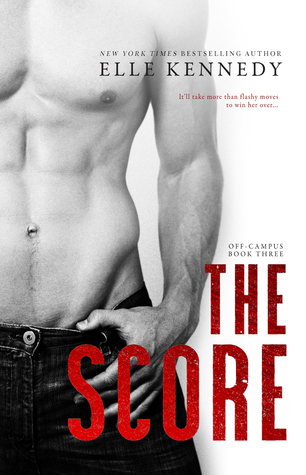 Title: The Score
Author: Elle Kennedy
Series: Off-Campus
Publication Date: January 11, 2016
Publisher: Self-published
Links: Goodreads | Amazon | Barnes & Noble | Book Depository
Synopsis via Goodreads: He knows how to score, on and off the ice

Allie Hayes is in crisis mode. With graduation looming, she still doesn't have the first clue about what she's going to do after college. To make matters worse, she's nursing a broken heart thanks to the end of her longtime relationship. Wild rebound sex is definitely not the solution to her problems, but gorgeous hockey star Dean Di-Laurentis is impossible to resist. Just once, though, because even if her future is uncertain, it sure as heck won't include the king of one-night stands.

It'll take more than flashy moves to win her over.

Dean always gets what he wants. Girls, grades, girls, recognition, girls…he's a ladies man, all right, and he's yet to meet a woman who's immune to his charms. Until Allie. For one night, the feisty blonde rocked his entire world—and now she wants to be friends? Nope. It's not over until he says it's over. Dean is in full-on pursuit, but when life-rocking changes strike, he starts to wonder if maybe it's time to stop focusing on scoring…and shoot for love.
Shenanigans. Shenanigans everywhere!
The Off-Campus series has now OFFICIALLY made it onto my list of FAVORITE series! These characters are awesome, the writing is addicting, and there are shenanigans EVERYWHERE! What more could I possibly ask for? The Score has to be my favorite book in this series so far, although Logan and Grace are still my favorite couple. It was a good time all around and the ending totally caught me off guard. More, I NEED MORE!
Dean Di-Laurentis: With major skills both on the ice and in the bedroom, Dean knows how to score on both playing fields. He's not one to be tied down, but that all changes after a night of one too many shots and a girl with a broken heart.
Allie Hayes: After a brutal break-up with her long-time boyfriend, Sean, Allie is ready to move forward and focus on her acting career. And the best way to get over someone is to get under someone else.
Now Dean is breaking all his rules for just one more night with Allie. The only problem is Allie is not willing to take the risk if it means getting hurt again.
The third installment in the Off-Campus series was full of shenanigans and good times. This book was probably the funniest so far and I could not stop laughing. Dean surprised me in this book because with him being such a manwhore, I wasn't expecting him to be the one to pursue Allie. He was VERY persistent with his numerous texts and pleading and I have to applaud him for not giving up.
There were also some serious moments in this book. We learn about Dean's past and the reason for why he is so hesitant to be in a relationship. The whole conflict between Dean and his Coach was messed up and the Coach's actions were totally uncalled for! Dean also faces an unexpected loss and I didn't even see that coming. Out of NOWHERE. That brought me to tears.
Allie is also dealing with her own issues. Between a crazy ex-boyfriend and a father who is struggling with MS, Allie doesn't really have much time to focus on her own self. She wants to make it big in Hollywood, but not if it means having to take roles that don't highlight her true potential. I felt like this book focused more on the character's struggles and the romance, while it was steamy and wild, I felt that it took a backseat at times and I think that's why I enjoyed this book so much.
Allie and Dean together were HOT. Those two took it to a whole new level when it came to sexy time. The addition of Winston was the BEST! Winston + Little Dean = HOT AS HELL GOOD TIMES!
Aside from the sexual chemistry between Allie and Dean, I really liked the way this romance developed. It wasn't rushed since both of them had insecurities when it came to being in a relationship. But honestly, I was not expecting Dean to be as caring as he was in this book. My FAVORITE scene with these two has to be the night Dean goes to Allie after Sean shows up drunk at her dorm after finding out about Allie and Dean hooking up. That was the moment I became completely invested in this relationship and I was rooting for these two to find a way to overcome their insecurities and be happy together.
The ending was a COMPLETE SHOCKER for me! I didn't even see that coming. Like how and when did that happen? I need Tucker's story NOW so I can see where this series is headed. It's always the quiet ones that end up surprising us the most!