"A happy story doesn't always have a happy ending."- Imogen, One Day Soon
Title:

One Day Soon
Author:

A. Meredith Walters
Publication Date:

February 18, 2016
Publisher:

Self-published
Links: Goodreads | Amazon | Barnes & Noble 
Synopsis via Goodreads:

 He found me in blood and tears.

I stayed with him through darkness and fire.

We loved each other in the moment between innocence and bitter truth.

We were the kids easily ignored, who grew into adults we hardly knew.

We weren't meant to last forever. And we didn't.

I tried to move on.

Yet I never stopped thinking about the boy who had fought to keep me alive in a world that would have swallowed me whole. He was the past that I buried, but never forgot.

Until the day I found him again, years after believing I had lost him forever.

And in cold, resentful eyes, I saw the heart of the man who had been everything when I had nothing at all. So I vowed to hold onto the second chance that was stolen from the children we had been.

Sometimes fate is ugly. Life can be twisted.

And who we are can be ruined by who we once were.

For two people who had survived so much, we would have to learn how to hold on before we were forced to let go.
Butterfly Dreams by A. Meredith Walters was one of my top reads for 2015 and I was excited to check out more of her works. Just like with Butterfly Dreams, One Day Soon left me in tears. ACTUALLY, scratch that! One Day Soon was much worse. Right from the first page, I was sucked into this story of broken promises and second chances. It was brutal a read, but the pain was so WORTH IT!
"He found me when the sky was bleeding."
At the age of sixteen, Imogen Conner ran away from a broken hope in search of a better life for herself. However, she finds herself homeless and starving with no idea on how exactly 'make it on her own'. On his own since a young age, eighteen-year-old Yossarian Frazier takes Imogen under his wing and teaches her how to survive on the streets. But Yoss knows that Imi is not cut out for this life and urges her to return home. But Imi wishes to run away with Yoss, to leave this life behind to find their own 'happily ever after'. But when the time comes, Yoss never shows and Imogen return home, alone.
Fast forward to fifteen years later, and Yoss and Imi have once again crossed paths. Is this faith giving them a second chance, or will unfortunate circumstances once again tear them apart?
"He had fed me his dreams and I had given him mine. There wasn't a piece of his soul that I didn't recognize and claim as my own."
Let me start this review my providing a GIF that accurately shows my state of being upon finishing this book: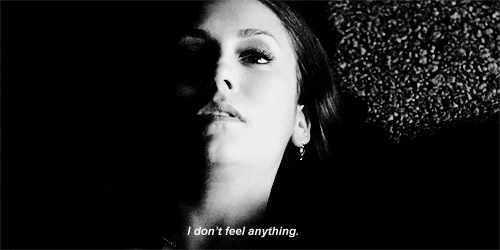 I was NOT emotionally prepared for this book and when I finished it at three in the morning, I was in pieces. Walters has once again written a beautiful and moving novel that shows that not every story ends with 'happily ever after'. It was RAW, REAL and UNCENSORED. Nothing was sugar-coated and that's what I loved most about this book.
The story written with chapters alternating between the past (fifteen years ago) and the present. Neither the past or the present were happy! There was heartbreak at the end of each chapter and I kept having to take breaks to process what the hell just happened. The writing was beautiful and at some points, even poetic. The pacing was just right as nothing was rushed between Yoss and Imi. Their bond was so much more than just about love. It was about survival and hoping to one day find a better life, together.
This book also tackles a number of social issues, like homelessness, drugs, and child prostitution. This is most definitely not a light read as we see the struggles that Yoss has had to face from being on the street at such a young age. As a psych major, child prostitution was always the hardest topic for me when I was in college and it is really a much bigger issue than we think and Walter's shows just how ugly it can get for children who have nowhere else to go. Those parts made my skin crawl and they were probably the most difficult parts to read.
"I'd rather know I was capable of loving someone who doesn't deserve it than close my heart off even a little bit."
Yoss and Imi are both complex and selfless individuals. Yoss, DAMN HIS HEART AND KIND NATURE! He let's others take advantage of him just so he can provide for his friends, the other street kids. He looks out for everyone and he is the glue that hold them all together. Imi too is selfless as she is now a social worker who spends her days helping others. These are good people DAMMIT, they do not deserve to suffer like this!
The chemistry between Yoss and Imi was undeniable, even after all the years apart, they still cared for one another. Honestly, watching these two struggle broke my heart. Just when you think they've got a fighting chance, faith has other plans and a twisted turn of events turns a second chance at love to a last chance to say goodbye. 
"You told me once that you don't need to have a great life. Just a happy one. I want that for you. The happy life."
So with red-rimmed eyes and a runny nose, I HIGHLY recommend checking out this book. Once again, Walters's as written another beautiful, heartbreaking romance that has landed itself on my FAVORITES list. I eagerly await the accompanying novella to find out what goes down between the last chapter and the epilogue. I better be crying happy tears because I don't think my heart can break anymore than it already for these two.