Hey Bloggers!
Welcome back to:
Rants & Rambles is a weekly feature where I share my own personal thoughts and opinions about both bookish and blogging related topics. As stated, these are MY OWN opinions and while you can choose to disagree with it, I hope that you at least respect it.
---
This week on Rants & Rambles I want to discuss:
You've spent months…WAITING.
..STALKING…
…OBSESSING…
…FULL OUT FANGIRLING about one of your most anticipated reads for the year and FINALLY, release day has arrived! So you lock yourself away, hiding from the outside world as you devour the pages of your MOST ANTICIPATED release and then you get to the end of the book and this happens….



This is how I felt after finishing two books that were on my MOST ANTICIPATED READS list for 2016. I had high hopes! The bar was set very high for these books, especially since one was written by an auto-buy author. But these books fell flat and they left me feeling salty and my poor eReader became the poor victim of my wrath.
It is very rare that I am ever disappointed with my most anticipated reads since I choose them very carefully. I'm not one to jump aboard the hype train since most of the time the train ends up just derailing, plus getting excited for ALL THE BOOKS can be exhausting. So when I do find myself in this predicament, I tend to have a ritual, per se. A series of steps that I follow to cleanse my soul of this awful book (dramatics).
STEP 1: WHAT WENT WRONG?!
I'm not the type of reader who gets mad if my favorite ship sinks or if a favorite character dies because there was a reason why the author decided to do take that route and I have to respect it, even if I don't like it. Instead, I tend to look at HOW the book is written and if it makes sense. If the book deals with important and sensitive subject matter, how well does the author handle these topics and overall, how realistic is the story? (only applies to contemporary). If nothing is making sense, then why bother?
STEP 2: IF THIS WAS THE FINAL BOOK IN A SERIES, HOW DOES IT COMPARE TO THE PREVIOUS INSTALLMENTS?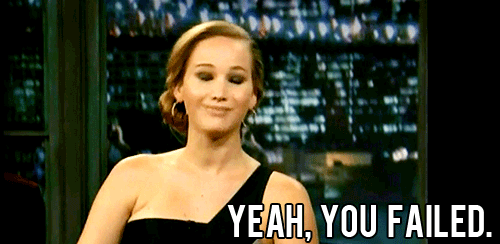 I HATE is when the final book in a series is not up to par with the previous installments. If I'm dedicating time and putting my heart into a fandom, I better be satisfied when it all comes to an end. If I still have unanswered questions, if things don't add up, if the easy road is taken, then I get upset because I feel cheated. All this time, I could've been flaling over another series, a better series. STOP WASTING MY TIME!
STEP 3: WAS THERE A 'SAVING GRACE'?
Since I don't DNF books, I always try to find at least one thing I like about the book so I can push forward and finish the book. Majority of the time, I usually can find something and I hold onto it with dear life and it keeps me going. I then try to figure out WHY I like this thing so much and then I decide how much of an impact the 'saving grace' had on my reading experience,how bearable did they make it? Saving graces can affect my ratings, even if it is just by 1/2 a star.
STEP 4: AM I BEING TOO HARSH? DID I EXPECT TOO MUCH?
Sometimes I wonder if maybe it was my own fault for having such high expectations in the first place. Was I just overselling this book to myself in my mind and did I set myself up to be disappointed in the first place? I've found that going into books with lower expectations can sometimes be better because then I don't get as upset when I don't like the book. Less rage, which makes the eReader very happy.
STEP 5: DO I WANT TO KEEP THE BOOKS OR NAH?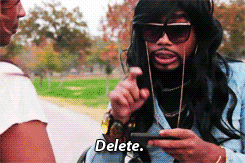 Since I typically read only eBooks, I will delete books I don't like ASAP! This is much harder when it comes to series because if I liked the previous books, then I may keep the eBook. I weigh the chances of me ever rereading at least one book from the series, and if they are high, I am more likely to keep the series. I usually just end up rewriting the ending in my head so I don't have to think about the previous mess I just read.
STEP 6: HOW DO I MOVE ON FROM THIS HEARTBREAK?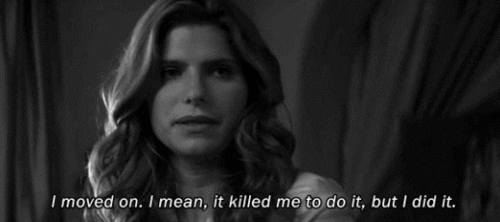 I don't usually fall into a hangover after a disappointing read, but I do feel nervous because I don't want to read two unsatisfying books in a row. That is OVERKILL. Usually what I end up doing is reading a book in that same genre (picking up a dark read after finishing one) so I can get over the previous one. This method has yet to fail and it has worked time and time again. It shows me that not all the books with a similar story line are bad and maybe I'll even find my new favorite book!
---
We can't always end up liking every book, but I do hate it when my most anticipated reads end up sucking. I don't really like feeling disappointed, especially when I've spent time waiting around for a particular book to be released. I guess the only thing we can really say is 'better luck next time'. *crosses fingers*
That is all for this week's Rants & Rambles. I hope you enjoyed my random thoughts!
How do you deal when a highly anticipated read disappoints?
Let me know in the comments!