Happy Tuesday!
Top Ten Tuesday is a bookish meme hosted by The Broke and The Bookish. This week's topic is Top Ten Bookworm Delights. Thinking about this list makes me want to break out and start singing "My Favorite Things" bookworm edition!
Let's begin!
---
1. Not having to work on the weekends because that means MORE TIME TO READ!
I hate having to work on the weekends because I get ABSOLUTELY NO READING DONE. I love being able to lie around and do nothing but read all day. There is seriously no better way to spend my weekend than with a book in my hand.
2. Strong, sturdy books that don't bruise easily when I throw them across the room!
I'm a bit of a violent bookworm, so when I get frustrated with a book, I do not hesitate to throw it across the room. I remember when I threw Eclipse across the room. I was so annoyed, I left it on the floor for three days. I clearly need anger management, LOL.
3. Books that cause me to fall over.
I'm an emotional reader so majority of the times you can find me lying on the floor when reading. There have been times when I'll be sitting in a chair while reading and then the next minute, I will be on lying on the floor paralyzed with emotions. Those are always the 5 star reads for me!
4. Bonding over books with friends/new people.
I don't have many friends IRL who read so when I do manage to meet someone who likes books, it excites me! Especially, when I get to meet other readers who enjoy the smutty reads. I have NO SHAME in my smut game XD!
5. When my playlist is in-sync with my current read.
Majority of my reading is done on public transportation when I'm going to and coming from work and majority of the time, I will listen to music while I read. This can be a great experience because when a song comes on that perfectly fits the scene I'm reading…DEAD! Too much emotions all at once and I love it!
6. When someone says that they enjoyed one of my recs.
I don't usually recommend books because I don't want another person to read a book I love and say they hated it. So on the off chance I do give out a rec and then that person comes back gushing after having finished one of my faves, I feel quite pleased with myself. I have done my good deed for the day.
7. When a release date is pushed forward.
UMM, because NO ONE LIKES the waiting game!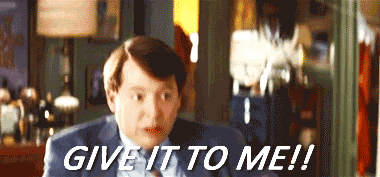 8. Rainy days (typical bookworm delight).
Who doesn't love reading on a rainy day. It's so calm and relaxing and my dog tends to snooze the day away which means I can spend more time reading and less time trying to keep her out of trouble.
9. DEALS! SALES! BARGAINS!
YAAS! I do most of my book purchasing during the summer months and at the end of the year because those are the times when most of the sales occur in the states and on BookOutlet. Between the months of June-August and November-December, I will usually have a shipment of books arriving. Book mail, BOOK MAIL EVERYWHERE!
10. When I can finish a book before the eReader dies (WIN!). 
This is always a WIN for me because my iPad mini is slowly dying and I refuse to get a new one and I hate having to constantly charge it so when I get to finish a book before it reaches red, I am so excited. The only bad thing is that I have to wait until it is fully charged to start a new book.
---
That's all for this weeks TTT. 
If you posted a TTT for this week, drop your link down below so I can check them out!