"Jamie Canning was my first crush and my first love. But he was never mine to have." – Ryan, Him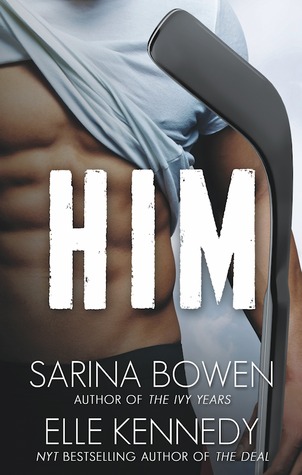 Title: Him
Author: Sarina Bowen & Elle Kennedy
Series: Him
Publication Date: July 28, 2015
Publisher: Rennie Road Books
Links: Goodreads | Amazon | Barnes & Noble | Book Depository
Synopsis via Goodreads: They don't play for the same team. Or do they?

Jamie Canning has never been able to figure out how he lost his closest friend. Four years ago, his tattooed, wise-cracking, rule-breaking roommate cut him off without an explanation. So what if things got a little weird on the last night of hockey camp the summer they were eighteen? It was just a little drunken foolishness. Nobody died.

Ryan Wesley's biggest regret is coaxing his very straight friend into a bet that pushed the boundaries of their relationship. Now, with their college teams set to face off at the national championship, he'll finally get a chance to apologize. But all it takes is one look at his longtime crush, and the ache is stronger than ever.

Jamie has waited a long time for answers, but walks away with only more questions—can one night of sex ruin a friendship? If not, how about six more weeks of it? When Wesley turns up to coach alongside Jamie for one more hot summer at camp, Jamie has a few things to discover about his old friend…and a big one to learn about himself.

Warning: contains sexual situations, skinnydipping, shenanigans in an SUV and proof that coming out to your family on social media is a dicey proposition.
Ryan Wesley and Jamie Canning were once best friends who first met at a summer hockey program in Lake Placid. They are both star-athletes, with their eyes set on playing for the big leagues. But during the summer before they started college, boundaries were crossed, forever changing their relationship, turning friends into strangers. Now, both Ryan and Jamie are back at the same summer hockey program as counselors and Jamie is determined to know why Ryan shut him out for all these years. What he learns could either bring these two closer together, or it could push them farther apart with no hope of them ever rebuilding their friendship.
"This is a very dangerous game we're playing. It will probably end in disaster. But if there's anyway I can prevent that, I will."
If I haven't said it enough on my blog, I'll say it again: M/M ROMANCE IS MY FAVORITE ROMANCE OF ALL THE ROMANCES AND I SIMPLY CAN'T GET ENOUGH! I was in a bit of a rut last week and I needed a pick me up so I started Him on a whim and it was the:
because I LOVED THIS BOOK! I want to shout into the void that Ryan and Jamie are my new FAVORITE OTP! Okay, let me stop gushing and get into the review.
First off, the writing was great! It was entertaining and addicting making it so hard for me to put this book down. Male POVs are my favorite to read because of their bluntness and our two MCs were not shy about saying what they wanted. I also liked the LGBT aspect of this book and the way it was handled. I was not expecting Jamie to be bisexual and it was refreshing because I've had a hard time finding MCs who identify as bisexual in novels. I enjoyed seeing Jamie become comfortable with his own sexuality and also enjoyed seeing others accept his decision to be in a relationship with Ryan. This also created a bit of conflict because Ryan was always doubting if he would ever be good enough for Jamie, but eventually learned that he could be EVERYTHING AND MORE to Jamie! PLEASE, WE NEED MORE BISEXUAL MCs!
"I hold him as close as I dare. Even if my entire life goes to shit before breakfast tomorrow, I'll always have this night."
I am in love with both Jamie and Ryan. Ryan was funny and had an ego, but I loved the fact that Jamie always managed to pull him back down to earth. Jamie was a sweetheart and understanding. I thought that Ryan being gay would've pushed these two apart, but it brought them even closer than before. Every time I thought Jamie was going to run for the hills, he didn't and it was Ryan who ended up doing most of the running. Jamie fought for these two and I enjoyed seeing their relationship grow into something so much more. BFF TO LOVERS FTW!
The romance was HOT AS HELL! Yes, if you have an issue with sex in novels, then stay clear because there are LOTS of fun and sexy times in this book. I also can never look at purple skittles the same way anymore and I honestly don't think that that is even a bad thing.
"My weakness is him."
I swear, Elle Kennedy can do NO WRONG when it comes to writing books and I have instantly become a fan of Sarina Bowen's writing and I plan to binge read all her books soon. After finishing Him, I immediately started Us, but I will save the gushing and fangirling for my review. I HIGHLY recommend checking out this book if you're looking for a fun and entertaining M/M romance. PLEASE READ!!