"It's us. And it's perfect."- Ryan, Us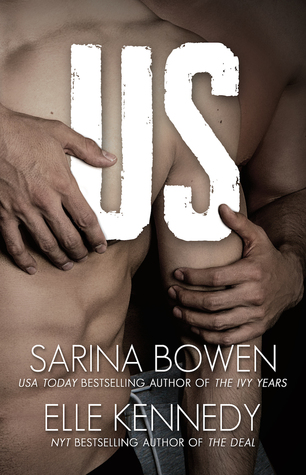 Title: Us
Author: Sarina Bowen & Elle Kennedy
Series: Him
Publication Date: March 8, 2016
Publisher: Rennie Road Books
Links: Goodreads | Amazon | Barnes & Noble | Book Depository
Synopsis via Goodreads: Can your favorite hockey players finish their first season together undefeated?

Five months in, NHL forward Ryan Wesley is having a record-breaking rookie season. He's living his dream of playing pro hockey and coming home every night to the man he loves—Jamie Canning, his longtime best friend turned boyfriend. There's just one problem: the most important relationship of his life is one he needs to keep hidden, or else face a media storm that will eclipse his success on the ice.

Jamie loves Wes. He really, truly does. But hiding sucks. It's not the life Jamie envisioned for himself, and the strain of keeping their secret is taking its toll. It doesn't help that his new job isn't going as smoothly as he'd hoped, but he knows he can power through it as long as he has Wes. At least apartment 10B is their retreat, where they can always be themselves.

Or can they?

When Wes's nosiest teammate moves in upstairs, the threads of their carefully woven lie begin to unravel. With the outside world determined to take its best shot at them, can Wes and Jamie develop major-league relationship skills on the fly?

Warning: contains sexual situations, a vibrating chair, long-distance sexytimes and proof that hockey players look hot in any shade of green.
Us is the second installment in the Him series and it is the continuation of Ryan and Jamie's story. Ryan and Jamie are currently living in Toronto and things seem to be going well, for the most part. Ryan is making a name for himself in the NHL, scoring goals left and right, while Jamie is adjusting to life off the ice with his new coaching position. These two have come a long way, but it's not too long until there is trouble in paradise. Ryan is keeping his relationship with Jamie under wraps, hoping to avoid the media and the frenzy that will arise once people find out that he is gay hockey player. Ryan promises Jamie that once the season is over, they will no longer have to hide from the outside world. The only problem: trying to make it through the season in the first place.
"Love is friendship set in fire."
The second installment in the Him series was even better than the first and I have completely fallen head over heels for Jamie and Ryan's story. I love them to bits and I can't get enough. Who knew I needed more M/M hockey romances in my life?!
While Him was about falling in love, Us was about fighting for love. Fighting to stay together. Fighting for acceptance. Fighting for a chance at a happily ever after. There are a number of conflicts that arise within Jamie and Ryan's relationship and they try their best to overcome them together. One of the first major issue is with secrecy and the fact that Ryan does not want to publicly come out of the closet just yet. He wants to be known for his talented skills on the ice and not for being the first gay hockey player in the NHL. While Jamie agrees to go along with the plan, it is not long until he gets cabin fever and grows tired of being Ryan's secret. I liked the fact that the stigma of being gay and an athlete was tackled in this book because it sucks in the first place that there is STILL a stigma! There was also the issue of using gay slurs as 'motivation' and that was tackled as well showing that this type of behavior is actually harmful, even if that was not one's intention in the first place. WELL DONE on the LGBT front!
Our characters, Jamie and Ryan, also have their own personal issues that they are both trying to deal with. Jamie is not happy with his current job situation and it leads to him becoming depressed and angry, lashing out at Ryan and causing a rift in their relationship. Ryan is also coming to terms with the fact that his parents will never accept his sexual identity and him cutting ties with them. All these issues put a strain on Jamie and Ryan's relationship as a whole and while in the previous book the romance was more fluffy and sweet, here there was more of a serious tone and it was heartbreaking. ICEBERGS WERE COMING OUT OF NOWHERE THREATENING THE STABILITY OF MY SHIP! WHY?!
"But in the back of my mind, I'm wondering where I belong. Or rather, where I'll end up. Wes is my home. He's my heart. But he can't be my everything."
Now onto the more happier things, SECONDARY CHARACTERS. Secondary characters played an important role in this book, the first one being Blake, who I had a love/hate relationship. I wanted to stab in during the first half of the book because he was ALWAYS getting in the way and showing up at the worst times. But he ended up surprising me and I grew to like him. He accepted Jamie and Ryan relationships, no question asked and became the honorary third wheel. I also NEED Blake and Jess's book ASAP!!! Those two make an interesting pair and I can't wait to see how things turn out for them.
We also have the Canning Clan, my FAVORITE FAMILY EVER! I LOVED Jamie's mom and the fact that she took Ryan in as her own. When Ryan called her 'Mom', I DIED INSIDE. It just goes to show that family does not always need to be blood related.
"But I chose happiness over other people's skewed opinions and cruel judgments. I chose Wes."
I really can't RAVE about this book enough and my streak of 5 star M/M romances is still GOING STRONG! I am ready for wedding bells. Get ready to pop lots of champagne because this is going to be one hell of a wedding!