Hey Bloggers!
Welcome back to:
Rants & Rambles is a weekly feature where I share my own personal thoughts and opinions about both bookish and blogging related topics. As stated, these are MY OWN opinions and while you can choose to disagree with it, I hope that you at least respect it.
---
This week on Rants & Rambles I want to discuss:
The title for this discussion may be a tad dramatic, but it's a thought that has been on my mind for the past few weeks. If you follow my blog or check out my Goodreads shelves, then you know that I am a HUGE lover of contemporary romances, more specifically, the New Adult genre. New Adult is the genre that initially got me back into reading and I will be forever grateful to it. With that being said, I have to say that I'm a little taken aback by the amount of hate that the New Adult genre gets. Trust me people, it DOES get hate, I've read the articles. I've seen the tweets. I completely understand that this genre has a number of problematic issues (trust me, I have my issues with NA books as well), but writing off the genre completely as being nothing more than a "trashy fuckfest" is not right either.
Let's shed some light on the origins of NA. This genre was created for two reasons: (1) readers going off to college were looking to read books that showed characters dealing with similar struggles as them (e.g., leaving the nest, self-discovery and choosing a career) and (2) because of Twilight fanfic. I kid you not, Twilight is a major contributor to the NA genre, with Edward representing your typical 'alpha-male' and Bella representing your 'special snowflake'. Yeah, so clearly not the best foundation for a genre, but still not a reason to trash it!
I admit, I have my issues with NA. The lack of diversity, the repetitive plot line, the excessive use of certain tropes, and the cringe-worthy covers are just a few, but I think we forget that this genre is still fairly new. It's still trying to figure it's shit out and I also believe that authors are starting to listen to their readers and are taking into consideration their wants and needs. With that being said, if NA is so problematic, should I be shamed for reading it? Should I be embarrassed that I read the "so-called bullshit" that is NA?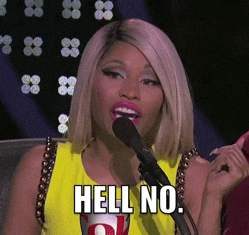 Here's the deal. I spend most of my day reading clinical notes, dealing with patients and trying to figure out the mumbo-jumbo crap of insurance policies. So when the clock strikes five and I'm free to read, my brain doesn't want to read a book that requires deep thought and analyzation. I WANT TO INDULGE IN THE SMUTTY READS, my friends! And I WANT NOT TO SHAMED FOR IT!
Reasons Why I Read New Adult
♥ Relatability: I am the targeted age for NA, so I do relate to a lot of the issues these characters face. It may be turned up a notched and overly dramatic, but I still can relate to it and that's what I like most. Being able to read a story where someone is facing the same struggles as me as seeing them overcome them gives me a sense of hope that things will work out in time.
♥ Emotional Connection: I am an emotional reader. I need to feel a connection with the characters in order to like a book and I usually find myself connecting more with MCs in the NA genre than any other genre. I haven't figured out why this happens, but some of my favorite characters are from NA books and I like majority of them, despite their flaws.
♥ Entertainment: I personally like the way NA is written, with the excessive use of profanity and shenanigans. Some call it vile, but I curse like a sailor so I can't really judge these authors for their choice of words. Plus, shenanigans are entertaining as fuck, why wouldn't one want to read about them?
♥ Ahh…the Sex: What would NA be without all the 'hot and bothered' characters? Listen, the way I see it, sex is natural. If authors want to write about angsty MCs who just want to go at it, then that's fine by me. As long as there is promotion of positive and safe sex (no glove, no love people), then I'm not too bothered.
New Adult has a long way to go as a genre and the ride is definitely going to be a bumpy one, but we shouldn't write off the genre completely and those who read the genre shouldn't be thought of as being 'less of'. We should all be able to read whatever we want without being judge for it. So please, let me indulge in the smuttiness in peace!
---
Let me just end this by saying that there ARE good NA books out there, but finding them won't be easy. Think of it this way, finding love isn't easy so take your time when scouring the shelves for a romance. Don't judge a book by it's cover, especially when it comes to NA, because those covers are absolutely ridiculous. Now excuse me while I continue my current smutty read!
That is all for this week's Rants & Rambles. I hope you enjoyed my random thoughts!
Have you ever been shamed for the books you read?
Let me know in the comments!