"Today is the best day of my life and so is tomorrow."- Taco, Anything You Want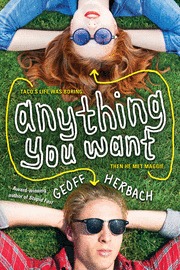 Title: Anything You Want
Author: Geoff Herbach
Publication Date: May 3, 2016
Publisher: Sourcebooks Fire
Links: Goodreads | Amazon | Barnes & Noble | Book Depository
*I received an ARC from Netgalley in exchange for an honest review.*
Synopsis via Goodreads: Expect a bundle of joy—er, trouble—in this hilarious, heartwarming story from the award-winning author of Stupid Fast Geoff Herbach

Taco's mom always said, "Today is the best day of your life, and tomorrow will be even better." That was hard to believe the day she died of cancer and when Taco's dad had to move up north for work, but he sure did believe it when Maggie Corrigan agreed to go with him to junior prom. Taco loves Maggie- even more than the tacos that earned him his nickname. And she loves him right back.

Except all that love? It gets Maggie pregnant. Everyone else may be freaking out, but Taco can't wait to have a real family again. He just has to figure out what it means to be a dad and how to pass calculus. And then there's getting Maggie's parents to like him. Because it would be so much easier for them to be together if he didn't have to climb the side of the Corrigans' house to see her…
William "Taco" Keller is an easy going fella who is head over heels in love with Maggie Corrigan. They are inseparable, even though Maggie's parents disapprove of their relationship. But things get crazy when Taco learns that Maggie is pregnant. Now Taco has to figure out a way to provide for his new family while keeping up with school and staying out of trouble. Sometimes adulthood happens faster than you think.
"Today is the best day of your life, and tomorrow will be even better."
I wasn't too sure what to expect when I started Anything You Want, but I was really excited that this YA was told from a male's POV since it's my favorite to read from. Right from the first page, I was laughing out loud because Taco was getting himself into all sorts of trouble. But unfortunately, I wasn't laughing for too long. I had a number of issues with this book and it felt like I was pulling teeth in order to finish it.
This book deals with a number of themes like, loss of a parent, parental abandonment, alcoholism, and unplanned pregnancies. With such a number of heavy topics being tackled, I wasn't expecting this book to be so comical and I think that was a bit of a turnoff for me. I couldn't wrap my head around the fact that Taco and Maggie didn't think, NOT ONCE, to use contraceptives…I mean…
The comical tone coupled with the dramatic scenarios were OVERKILL for me. It didn't help that Taco was such an EXTREMELY OPTIMISTIC character. This may be a personal problem, but I have an aversion to optimistic people. Reading from Taco's POV was not easy because his "everything will work out fine" way of thinking annoyed the hell out of me. I really wanted to know how he managed to keep his cool when all hell was breaking lose around him!
The secondary characters were unbelievably selfish and some of their actions made me want to rage. Taco's dad is a Grade A douche and Taco's brother is no better. They are both too blinded by their own selfish needs that they don't see the trouble Taco is getting into until it's too late. Seriously, this shit could've been avoided if someone took the time to give Taco the talk about the birds and the bees. I also didn't like Maggie. She was speaking one thing, but her actions were saying another and I just could not deal with her indecisiveness. 
"In the end, maybe that is what a best day looks like? Making hard decisions so that the people you love are okay?"
I didn't completely hate this book. I did like Taco's development throughout the book. It took a really long time, but eventually he learned that being a responsible adult sometimes means having to make tough decisions, even if the decision made is not the one you want. The ending was great and I supported Taco's decision 100%. Honestly, the ending was the saving grace for me because if it ended differently, I probably wouldn't have enjoyed it. 
"Growing up is hard to do. But I've learned my lesson well."
If your looking for a quick, funny read with extremely optimistic characters I would recommend checking out this book. But if your like me and have an aversion to optimistic people, STAY FAR AWAY!