"It turns out that the erotica is the easiest part of our whole deal. It's Blake who is going to test me till the very end."- Amanda, Smut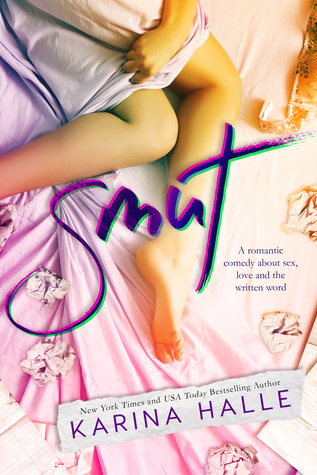 Title: Smut
Author: Karina Halle
Publication Date: May 16, 2016
Publisher: Self-published
Links: Goodreads | Amazon | Barnes & Noble 
Synopsis via Goodreads: What happens when the kink between the pages leads to heat between the sheets?

All Blake Crawford wants is to pass his creative writing course, get his university degree, and take over his dad's ailing family business. What Amanda Newland wants is to graduate at the top of her class, as well as finally finish her novel and prove to her family that writing is a respectful career.

What Blake and Amanda don't want is to be paired up with each other for their final project, but that's exactly what they both get when they're forced to collaborate on a writing piece. Since Amanda thinks Blake is a pushy asshole (with a panty-melting smirk and British accent) and Blake thinks Amanda has a stick up her ass (though it's a brilliant ass), they fight tooth and nail until they discover they write well together. They also may find each other really attractive, but that's neither here nor there.

When their writing project turns out to be a success, the two of them decide to start up a secret partnership using a pen name, infiltrating the self-publishing market in the lucrative genre of erotica. Naturally, with so much heat and passion between the pages, it's not long before their dirty words become a dirty reality. Sure, they still fight a lot, but at least there's make-up sex now.

But even as they start to fall hard for each other, will their burgeoning relationship survive if their scandalous secret is exposed? Or are happily-ever-afters just a work of fiction?
Usually, I start off my reviews writing my own synopsis of the book, but I think the title of this book pretty much SAYS IT ALL! Although I love romance novels, I am NOT your rom-com type of girl, but with a title like that, I had a strong feeling that this book would be different and I WAS RIGHT! Smut was both ENTERTAINING and SEXY AS HELL! It's also the most truthful book I've ever read. Halle throws all the shade and calls out all the BS that many self-published authors face today. I can honestly say that I have NEVER read anything like Smut before.
"Forget about the future. Writing is about the now, is it not? It's about putting down words and creating worlds and really that's it."
The writing was what initially hooked me. And no, I'm not talking about the sexy times, although we will get to that later. I'm talking about the fact that this book is basically a guide to HOW TO WRITE EROTICA 101. Blake and Amanda both want to be successful authors and the two decide to put their heads together to write self-published erotica romances under a pen name. It's not easy, writing a book never is, but these two sure make it look fun as hell! When it came to the writing, there were three things that stood out to me:
THE TRUTH: I love the fact that Halle dissects romance novels and even highlights the basic requirements of a successful romance novel. Basically, boy meets girl, girl meets boy, sparks fly, sexy times, conflict ensues, mini breakup, and then happily-ever-afters. IT IS ALWAYS THE SAME, but I'm not going to lie, I WOULD NOT change this. I live for HEAs and this formula has worked for many years, so why mess with a good thing? Also, alpha males are never millionaires, BILLIONAIRES are the winners 😉 !
THE SHADE: Halle is SHADY AS FUCK and shows how all genres have their own problems and that no genre is perfect. She also calls out bloggers who give 1 star ratings to books they have never read and the importance of reviews. So all you reviewers who rate books without reading them:
THE MADNESS OF THE ART: SEX SELLS! Whether you want to admit it or not, sex does sell. If it didn't, there wouldn't be romance novels. Plus, the smuttier, THE BETTER! I like the fire between my MCs blazing like a wildfire!
"No one should be judged by what they read, nor should authors by what they write."
Blake and Amanda are a great pair. They are both nerds at heart and they both share a love for the written word. They started off as enemies and slowly became something more. The romance was slow and built up until BOOM, FIREWORKS! Seriously, the sexy times were not joke. Certain scenes had me like:
I'm pretty sure these two left scorch marks wherever they touched because they were on fire. 
Blake was such an interesting character because at first, he comes off as a certifiable asshole, but he's not. He's just a guy who wants to write and live his life for himself and not have to follow in his father's footsteps. He has big dreams and will do whatever it takes to achieve them. He not only has a way with the written word, but also with the spoken word. WEAK IN THE KNEES, FOLKS!
I'm not too much of a fan of Amanda. I felt that she was a little flat and I like my females MCs to be a little more assertive. There were times where I wanted her to take charge and push back and even though she eventually does, I wish she would've done something sooner. 
"Life isn't a fairy-tale and not everyone gets a happily-ever-after, but in our book world they do. And believe it or not, it's made me a better writer. I don't want to be ashamed of it. I'm not. So take it or leave it."
Despite the cover, this book is so much more than just another smutty read. I highly recommended checking out this book. With laugh out loud moments and sexy times, Smut will keep you entertained for hours for sure!