Hey Bloggers!
Welcome back to:
Rants & Rambles is a weekly feature where I share my own personal thoughts and opinions about both bookish and blogging related topics. As stated, these are MY OWN opinions and while you can choose to disagree with it, I hope that you at least respect it.
---
This week on Rants & Rambles I want to discuss:
The Black Sheep. The Odd One Out. The Hater. The oh-so infamous negative reviews. When I first started blogging, I didn't realize that negative reviews were such a big deal. I always thought that 'honesty was the best policy' and whether a reviewer rated a book five stars or one star, as long as they were being honest about their rating, then that was all that really mattered. APPARENTLY, I WAS SO WRONG!
I've seen it time and time again, bloggers afraid to post their negative review for a fan favorite book. It sucks because bloggers should not feel bad for not liking a book. WE ARE NOT ALL GOING TO LOVE EVERY BOOK WE READ! Hell, if I loved every book I read, I'd be broke as fuck since I only buy the physical books of my most precious faves (thank god for cheap ebooks and my Scribd account). I really don't understand why negative reviews have such a bad reputation though. They are actually my favorite reviews to read and I know a few bloggers who do a DAMN GOOD job at killing it when it comes to negative reviews. Here are some reasons why I like negative reviews.
NEGATIVE REVIEWS ARE THE EASIEST TO WRITE
Compared to my five-starred reviews, negative reviews have always been easier to write. Not even going to lie, it sometimes takes me up to three hours to write a five-starred review, while it can take me an hour just to whip up a negative review. I mean, how many times can you just keep repeating "I love this…" or "this is my favorite because…". It just gets to be repetitive. With negative reviews, there are so many more things to discuss and I can even go into more details because trust me, when I hate something, I like to rant, a lot. THROWS ALL THE SHADE!
NEGATIVE REVIEWS ARE THERAPEUTIC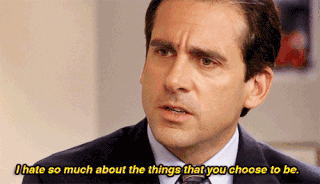 Personally, I feel if your going to write a negative review, DON'T HOLD BACK! Get all your hate for this book out. Dissect all your issues with book and give reason for why certain things just didn't work for you. By the time you're done, you will be ready to move on and erase that mess of a book you just read from your memory. Hopefully, your next read is much better than the last.
NEGATIVE REVIEWS ARE ENTERTAINING AS FUCK
Please tell me that I am not the only one who thinks this because I always end up cackling like a hyena when reading negative reviews. Between the excessive use of profanity and the shady gifs, negative reviews always make me laugh. They GIVE ME SO MUCH LIFE! I never realized that book bloggers had such sassy personalities and I love it!
NEGATIVE REVIEWS OFFER A DIFFERENT POV
Since we're are not all going to like the same book, I like to see why a book didn't work for someone else. A perfect example for this scenario is Me Before You. I've seen the controversy surrounding Me Before You and while I love that book, many others did not like this book because it promotes ableism. While this does not change my over all feelings of this book, I do keep this idea in the back of my mind when I think about this book and I don't think I would've realized that others felt this way about such a popular book if it weren't for the negative reviews.
---
We shouldn't be so afraid to post negative reviews because at the end of the day, it's our honest opinion and that's really the whole point of reviewing books. Even if it is a negative review for a book that everyone loves, don't be afraid to be that 'black sheep' because you never know, there may be other black sheeps out there who share your same views. And to those who think it's okay to attack those who post negative reviews of a fan favorite book, HAVE A SEAT because y'all are the REAL HATERS!
That is all for this week's Rants & Rambles. I hope you enjoyed my random thoughts!
How do you feel about negative reviews?
Let me know in the comments!