"Some of us are born into the storm and some of us are born to chase after it."- Quaid, Charged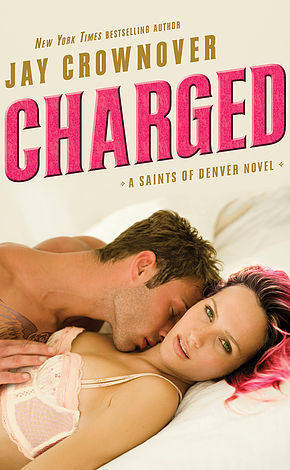 Author: Jay Crownover
Series: Saints of Denver
Publication Date: May 24, 2016
Publisher: William Morrow Paperbacks
Links: Goodreads | Amazon | Barnes & Noble | Book Depository
Synopsis via Goodreads: From the New York Times bestselling author of the Marked Men books comes the second installment in the Saints of Denver series featuring a bad girl and a by the book attorney who could be her salvation…or her ruin.

Avett Walker and Quaid Jackson's worlds have no reason to collide. Ever. Quaid is a high powered criminal attorney as slick as he is handsome. Avett is a pink-haired troublemaker with a bad attitude and a history of picking the wrong men.

When Avett lands in a sea of hot water because of one terrible mistake, the only person who can get her out of it is the insanely sexy lawyer. The last thing on earth she wants to do is rely on the no-nonsense attorney who thinks of her as nothing more than a nuisance. He literally has her fate in his hands. Yet there is something about him that makes her want to convince him to loosen his tie and have a little fun…with her.

Quaid never takes on clients like the impulsive young woman with a Technicolor dye job. She could stand to learn a hard lesson or two, but something about her guileless hazel eyes intrigues him. Still, he's determined to keep their relationship strictly business. But doing so is becoming more impossible with each day he spends with her.

As they work side-by-side, they'll have to figure out a way to get along and keep their hands off each other—because the chemistry between them is beyond charged.
No stranger to law-breaking, Avett Walker finds herself behind bars facing a number of charges and possible jail time. The only difference is that this time, she's not at fault. But with a shady track record and her long list of bad decisions, finding someone to believe her side of the story will not be easy. 
Despite her troubling past, Quaid Jackson believes Avett's story and takes on her case. But what he gets is more than he ever bargained for when he finds himself falling for the little pink-haired troublemaker. But little as she may be, Avett is about to turn Quaid's world upside down and the damage she leaves in her wake will require more than quick fixes. Can Quaid save Avett from herself, or will her streak of bad decisions finally land her where she believes she belongs?
"Even when someone doesn't want our story, we are still compelled to tell it."
MY FAVORITE AUTHOR HAS DONE IT AGAIN!
Jay Crownover is my ALL-TIME favorite author and I'm not really surprised that Charged was another 5-star read for me. I seriously can't get enough of my guys and gals of Denver.
Charged is the first Crownover book where a badass female MC takes the lead and while I love reading about my bad boys of Denver, it was refreshing to finally read a story that revolves around one of the many female characters I have come to know and love throughout both the Marked Men and Saints of Denver series. One of the many things I enjoy about Crownover's books are her 'perfectly flawed' characters. All of her characters have inner demons that they are struggling with and Avett and Quaid are no different. Self-sabotage is the name of the game that Avett likes to play as mistakes from the past continue to haunt her and she believes the only way to make amends is by punishing herself. She knows that deep down she is a good person, but she doesn't believe she deserving of good things. Quaid on the other hand has fought his whole life to become successful, but now that he has it all, he still is not content and realizes that success means nothing if you have no one to share it with. As opposite as they may be, Avett and Quaid work great together because despite their differences,  they each have something to teach the other. Quaid helps Avett realize that despite her screw ups, she can still turn her life around. She just has to be willing to take the first step and accept help when needed. Avett shows Quaid the difference between 'wanting' and 'needing' and helps him realize that relationships shouldn't be a game of 'tit for tat' but that rather a partnership where both individual's needs and desires are met.  
A major theme throughout all of Crownover's book is family and it is also one of the main reason why I love her books so much. Brite Walker is as bad as they come, but when it comes to Avett, he turns into a giant teddy bear. I love his relationship with Avett and how he has always been there for. She is daddy's little girl through and through. Avett and her mother, Darcy, have never had the best relationship, but in this book, they finally hash out their issues and Avett learns that she and her mother are not so different after all. They have more in common than she thinks and they slowly start to mend fences. We also get cameo's of characters from the Marked Men series…Rome…BE STILL MY HEART! ♥__♥

"And maybe when I was done letting myself fall in love with him, which would inevitably lead to him breaking my heart, I would finally have hit the threshold of hurt I was willing to put myself through as punishment. "
Let's get to the good stuff, the romance. This has to be the MOST STEAMIEST books so far in this series. Crownover turned the heat up for this one! Quaid has moves both in courtroom and the bedroom.
There is also a lack of angst in this book, which I liked. Avett and Quaid's relationship developed over time, becoming closer as they spent more time together. No 'cat and mouse' game here, when the time was right for these two to get together, there was no holding back! They are one hell of a storm and there is no stopping them.
"Bad decisions did lead to great stories and, in my case, great love. I'd make every single crappy choice and foolish error again if it meant I would end up exactly where I was right now."
Charged was another great Crownover novel about redemption and new beginnings and I loved every minute of it. If you're interested to read Avett's story yourself, I strongly recommend you read the Marked Men series first since that is where we first meet her and the events that occurred in that series come into play during this book.
Now I need Church's book. I'm already scared of Church after reading that snippet chapter from his POV. Dixie better be ready because she's about to have her hands full with this soldier.