"Poppy and Rune. Two Halves of the same whole. Reunited at last. When it matters most."- Poppy, A Thousand Boys Kisses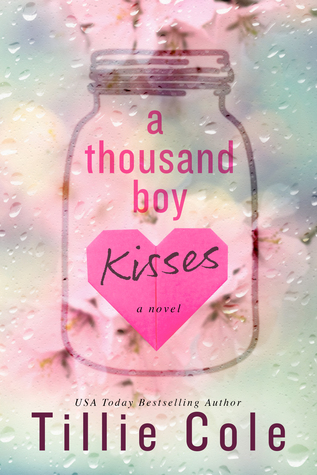 Title: A Thousand Boy Kisses
Author: Tillie Cole
Publication Date: March 15, 2016
Publisher: Self-published
Links: Goodreads | Amazon | Barnes & Noble | Book Depository
Rating: ★★★
Synopsis via Goodreads: One kiss lasts a moment.

But a thousand kisses can last a lifetime.

A bond that is forged in an instant and cherished for a decade.

A bond that neither time nor distance can break.

A bond that will last forever.

When seventeen-year-old Rune Kristiansen returns from his native Norway to the sleepy town of Blossom Grove, Georgia, where he befriended Poppy Litchfield as a child, he has just one thing on his mind. Why did the girl who was one half of his soul, who promised to wait faithfully for his return, cut him off without a word of explanation?

Rune's heart was broken two years ago when Poppy fell silent. When he discovers the truth, he finds that the greatest heartache is yet to come.
A Thousand Boy Kisses follows our two MCs, Poppy and Rune, who met at the age of five when Rune first moved to the States from Norway. They became fast friends who eventually fall in love and become inseparable. But their relationship comes to an end when Rune and his family moves back to Norway and the two lose contact. Fast-forward two years later, Rune has returned and once again, these childhood sweethearts find themselves back in each other arms. But Rune's world comes crashing down when Poppy reveals a secret that will affect both their futures. What they thought would be forever, may end sooner than they hoped.
Isn't the cover for A Thousand Boy Kisses absolutely adorable?! I was in the mood for a fluffy read and with all the buzz going on around this book, I decided to pick it up. I was FULLY AWARE AND PREPARED for the waterworks as so many readers had shelved this book under 'tear-jerker' on Goodreads. This sounded like the perfect book for me…or so I thought…
Let's first talk about what I liked. I LOVED pretty much everything that takes place before Rune leaves and returns to Norway. Watching these two grow up and fall in love was so cute and I am also such a SUCKER for the 'best friends to lovers' trope. I also loved the idea of 'a thousand boy kisses' as Poppy's grandmother's dying wish was for her to have a thousand boy kisses from her one true love and Rune is fully prepared to take on this task. Those moments literally made my heart bursts!
Unfortunately, my enjoyment for this book started to wane once Rune returns back to the States. My first major issue is with the writing. While it was beautiful and so incredibly sweet, I felt that it was TOO FLUFFY considering the circumstances surrounding Poppy and Rune's romance. I guess I was expecting there to be more of a somber tone since the possibility of a HEA is ALMOST non-existent. But I really didn't FEEL sad. I felt more pissed off than anything because I felt like I've read this story one too many times! I only cried for one scene because it was the only scene where things got a little dark. It was the only scene where I felt like our characters actually let go and true, raw emotion was seen. There was just too much sugar-coating in this novel. WHERE WAS THE HEARTBREAK?
My second major issue was with the characters. Together, Rune and Poppy make a great pair. There is no denying that and I truly enjoyed watching these two fall in love. But the problem was that I could only ever see them as Poppy and Rune and never as separate entities. I didn't really KNOW who these two characters were when they were not around each other. I'm not too sure these two even knew who they were when they were not together. It got to a point where I couldn't even tell the difference between POVs because their thoughts just started to sound the same. This really made it hard for me to connect with these characters and it just added to my disappoint for this book.
Now one would think that with a book like this couldn't possibly end with an HEA, but somehow THIS ONE DOES. I know that there have been some debates about whether or not the ending could actually be considered and HEA, but in my opinion, IT IS because even though it is a bit unconventional, these two DO end up getting what they wanted the most, which is to be together. That ending just pissed me off even more and I threw my eReader on the floor.
A Thousand Boy Kisses promised ALL THE TEARS, but my tear ducts beg to differ. I finally met a book that was TOO FLUFFY, even for me. I can totally see why this is a fan favorite, but this book did not work for me. I love a HEA as much as the next romance lover, but sometimes, sacrifices need to be made in order for a story to be great. HEAs should be optional, not inevitable.