"No one wants to be ruined. We all want to be saved."- Brooke, Paper Princess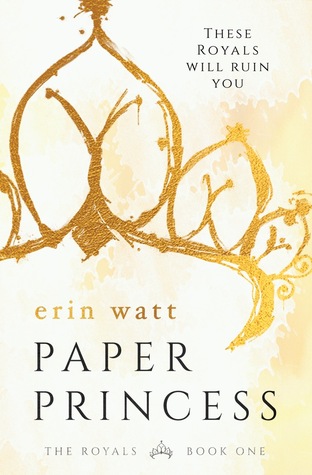 Title: Paper Princess
Author: Erin Watt
Series: The Royals
Publication Date: April 4, 2016
Publisher: Everafter Romance
Links: Goodreads | Amazon | Barnes & Noble | Book Depository
Rating: ★★★★
Synopsis via Goodreads: From strip clubs and truck stops to southern coast mansions and prep schools, one girl tries to stay true to herself.

These Royals will ruin you…

Ella Harper is a survivor—a pragmatic optimist. She's spent her whole life moving from town to town with her flighty mother, struggling to make ends meet and believing that someday she'll climb out of the gutter. After her mother's death, Ella is truly alone. 

Until Callum Royal appears, plucking Ella out of poverty and tossing her into his posh mansion among his five sons who all hate her. Each Royal boy is more magnetic than the last, but none as captivating as Reed Royal, the boy who is determined to send her back to the slums she came from.

Reed doesn't want her. He says she doesn't belong with the Royals.

Wealth. Excess. Deception. It's like nothing Ella has ever experienced, and if she's going to survive her time in the Royal palace, she'll need to learn to issue her own Royal decrees. 
Ella Harper has had a hard life as she struggles to provide for herself and her dying mother while also keeping up with school. Now that it is just her, her only hope is to get good grades so she can get into a good college and better her life. But her plans for the future come to a halt when Callum Royal shows up and whisks her away to a life of luxury. There, she meets five Royal sons and they have made it clear that Ella is not welcomed. But Ella is no stranger to not being wanted and plans to bide her time until she can find a way out. But that's easier said than done because Reed Royal plans to make her life a living hell and Ella is going to have to put up one hell of a fight if she's going to make it out in one piece.
 I went into Paper Princess totally blind with no expectations whatsoever. All I knew was the Elle Kennedy co-wrote this book and that was ALL I needed to know because Elle Kennedy never fails to entertain me and Paper Princess was no different. This book is CRAZY AS FUCK! Right from the first page, I was already cursing up a storm. For 24 hours, this book took full control over my life and I could not put it down. I needed to know how this 'rag-to-riches Cinderella' story was going to end.
The writing was one of my FAVORITE things about this book. The writing is SO ADDICTING! This one is a page-turner, 'just one more chapter' type of book for sure. Our two authors don't hold back and they just give it to us down and dirty. It's SEXY. It's RAW. It's FULL OF SHENANIGANS. I also loved the sarcastic undertone that is in this book and I found myself laughing up a storm. There are some darker, more serious themes throughout this book, but the touch of sarcasm helped to keep the story from being dragged down by those themes. It was a great mix of fluffy and dark. The dialogue in this book was INSANE. These characters have absolutely no filter and are not afraid to say what is on their mind, which can be both a good and a bad thing, depending on the situation.
THESE CHARACTERS ARE A RIOT! I absolutely adore Ella and her bold, 'I-don't-take-shit-from-anyone' attitude. She is a natural-born fighter and she stands up for herself. She is not afraid to dish it out. I really expected her to fall apart and number of times throughout this book. Between the slut-shaming and trying to figure out where she belongs, Ella was just fighting one battle after the next. But she kept her head held high and refused to let anyone make her think less of herself.
The Royal brothers are a set of FUCKED UP ASSHOLES! I have never hated male characters in a book so much before, but I could not stand them…well except for Easton. I tolerated him for the most part and even though his friendship with Ella started off with a random make out session, they grew closer and became fast friends. But Reed Royal has to be the biggest PRICK I have ever come across because I can't stand him. He thinks he knows what's best for his family, but his constant bullying of Ella was completely unnecessary. I really don't like him, but I feel like our authors are going to make me feel differently once we get to the final book.
Even though I didn't like Reed, Reed and Ella together were LIT! Somebody get a fire extinguisher because these two are about the wreak havoc. There were moments of sweetness and pure bliss, and then there were moments of passion and heat. THESE TWO BROUGHT THE HEAT! I can't say that I'm totally on board with this ship, but I am curious to see where this relationship goes. 
But the real star of the show was the JAW-DROPPING CLIFFHANGER! 
This twist is just SICK. A TOTAL MIND-FUCK! I just…I honestly was just left speechless by the events that occurred and I can't even guess what is about to go down in the sequel. This is all too crazy!
Paper Princess is an entertaining read that will keep you on your toes and leave you wanting for more. I NEED JULY TO HURRY UP BECAUSE I NEED TO KNOW WHAT HAPPENS NEXT! If Ella is hurt in anyway, I may have to start plotting characters deaths. Hopefully, it won't come to that.