"I've lived enough to recognize that when something pretty damn good is coming your way, no matter how inconvenient, you should just fucking embrace it while you still can."- Lizzie, Last Will and Testament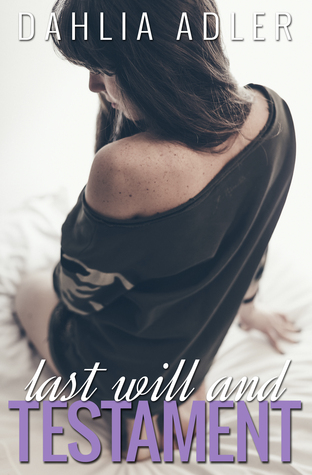 Title: Last Will and Testament
Author: Dahlia Adler
Series: Radleigh University
Publication Date: December 9, 2014
Publisher: Self-published
Links: Goodreads | Amazon | Barnes & Noble | Book Depository
Rating: ★★★★
Synopsis via Goodreads: Lizzie Brandt was valedictorian of her high school class, but at Radleigh University, all she's acing are partying and hooking up with the wrong guys. But all that changes when her parents are killed in a tragic accident, making her guardian to her two younger brothers. To keep them out of foster care, she'll have to fix up her image, her life, and her GPA—fast. Too bad the only person on campus she can go to for help is her humorless, pedantic Byzantine History TA, Connor Lawson, who isn't exactly Lizzie's biggest fan.

But Connor surprises her. Not only is he a great tutor, but he's also a pretty great babysitter. And chauffeur. And listener. And he understands exactly what it's like to be on your own before you're ready. Before long, Lizzie realizes having a responsible-adult type around has its perks… and that she'd like to do some rather irresponsible (but considerably adult) things with him as well. Good thing he's not the kind of guy who'd ever reciprocate.

Until he does.

Until they turn into far more than teacher and student.

Until the relationship that helped put their lives back together threatens everything they both have left.
Eighteen-year-old Lizzie Brandt has gained the reputation as a rebellious party animal, but the fun and games come to an end after tragedy strikes, claiming the lives of her parents. Now, Lizzie is forced to put her partying days behind her and get serious if she wants to keep custody of her two younger brothers and maintain her scholarship at Radleigh University. She turns to Connor Lawson, her History TA, for help in order to bring up her grades and sparks fly between the two turning an already bad situation into a worse case scenario.
I've heard such great things about Dahlia Adler's NA series and I finally got around to starting the first book. I should first mention that I am NOT a fan of 'student-teacher' romances, or forbidden romances overall. I, personally, just find them to be repetitive and over-dramatic. I didn't read the synopsis for this book before I started it so when I realized that this was a student-teacher romance, I paused for a minute because I wasn't too sure if I wanted to continue this book. BUT, I'm so happy I decided to stick it out because I enjoyed every minute of this book. This is actually the FIRST EVER student-teacher romance that I've liked where I wasn't constantly rolling my eyes and slamming my head again the desk. Why can't more forbidden romances be as AWESOME as this one?
Right off the bat, I loved the writing because it was so blunt and witty. Although Lizzie's situation is a sad one, the writing helped to keep the story on the lighter side which I liked. I also LOVED HOW REALISTIC this book is. Typically, with 'student-teacher' romances, I'm so used to the arrogant, alpha-male trying to have his way with his innocent, doe-eyed student, but there is NONE OF THAT BULLSHIT HERE! This romance was SUPER ADORABLE and FULL OF ANGST! The back and forth banter between Connor and Lizzie was entertaining and the sexy times were STEAMY AS HELL!
I was immediately drawn to Lizzie's character because she reminds me of myself during my freshman year of college. She's kind of all over the place and doesn't really care too much about anything until she becomes an orphan. She's forced to clean up her act and I really enjoyed watching her grow and become a whole new, responsible Lizzie. It was not an easy road, but I loved her determination to change her ways and do better to make her parents proud.
Connor was the total opposite of what I was expecting. He's such an adorable nerd and the total opposite of Lizzie, which is why they worked well together. The chemistry between these two WAS HOT! Conner did get on my nerves a few time with his indecisiveness about whether or not he wanted to be with Lizzie. But he pulled it together in the end and won me over.
The only thing I wanted more of was to see Lizzie grieve for the loss of her parents. There was only one quick moment at the beginning where she breaks down and cries, but other than that, she doesn't really ever discuss how sad she is about losing her parents and I just felt that was a little off.
Last Will and Testament is a hidden gem in the NA genre that definitely deserves more attention. All you lovers of forbidden romance, if you haven't picked this one up yet, I urge you to do so NOW! I'm excited to see what's in store for our secondary characters in the next two books and I hope I enjoy them as much as the first installment in this series.