"Love is messy, painful and emotionally draining. It hardly seems worth it."- Roxie, Nuts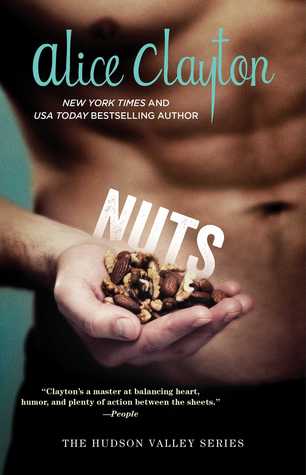 Title: Nuts
Author: Alice Clayton
Series: Hudson Valley
Publication Date: October 20, 2015
Publisher: Gallery Books
Links: Goodreads | Amazon | Barnes & Noble | Book Depository
Rating: ★★★
Synopsis via Goodreads: From New York Times bestselling author Alice Clayton, the first in a brand-new romance series telling the humorously sexy tale of Roxie, a private chef who gets a taste of love—but is it to stay, or to go?

After losing almost all of her clients in one fell swoop following an accident involving whipped cream, private chef to Hollywood's elite Roxie Callahan gets a call from her flighty mother, saying she's needed home in upstate New York to run the family diner. Once she's back in the Hudson Valley, local organic farmer Leo delivers Roxie a lovely bunch of walnuts, and soon sparks—and clothing—begin to fly. Leo believes that everything worth doing is worth doing slowly… and how! But will Roxie stay upstate, or will the lure of West Coast redemption tempt her back to Tinseltown?
Roxie Callahan is living her dream as a private chef catering to the rich and famous of Los Angeles. But when she gets a call from her free-spirited mother asking her to return home to run the family diner, Roxie makes the journey back home to Hudson Valley. She's made it clear that she is only there for the summer, but things become messy when she falls head-over-heels (literally!) for Leo, a local farmer with vibrant green eyes and acres full of organic crops. But when an unlikely surprise throws her for a loop, will Roxie run back to the Hollywood hills or will she let go of her fears and stay in the small town she never thought she would ever step foot in again?
I've been meaning to check out Clayton's works for a while after reading rave reviews for her novel, Wallbanger. I decided to pick up Nuts first after receiving an ARC for Cream of the Crop, the second installment in the Hudson Valley series. I was ready to laugh out loud, but that was before I realized the Nuts was shelved as 'Chick Lit'. While I love romance, I AM NOT A FAN OF CHICK LIT. Chick Lit tends to lack the emotional component I need to connect with a book and most of them tend to have linear plot lines with one-dimensional characters. As you can probably guess, my first Clayton novel DID NOT go off with a bang!
My first major issue was with the writing. The first 30% of the book was a bit of a drag to read because it mostly consisted of Roxie whipping up dish after dish and I felt like I was reading a recipe book. I'm the type of girl who loves dialogue so when there is not much conversations happening, my eyes tend to glaze over the words I'm reading and I get bored. I was however rolling on the floor laughing over the numerous sexual food innuendos. They were just too funny and so clever! I can't look at some foods the same way ever again.
The overall plot itself was just meh. In the beginning when Roxie was talking about how much she disliked her childhood town and how she felt like an outcast, I thought that there would be some sort of conflict or tension between her and the other people in the town. But surprisingly, everyone welcomes her back home and I don't really understand why she was dreading going back in the first place. There wasn't much conflict AT ALL throughout this story. The plot twist wasn't even that big of a deal as Roxie and Leo quickly overcame that hurdle and things went back to sunshine and rainbows.
I'm not quite sure how I feel about Roxie. She was kind of annoying at the beginning and I just couldn't connect with her. She also doesn't DO MUCH throughout the story. She had this drive at the beginning of the novel to become an amazing chef, but that all is tossed to the side when she meets Leo. I do like the romance and the chemistry that Leo and Roxie have going on. It was sexy, wild, angsty as hell and I don't have any complaints about it.
Overall, my first impression of Clayton is not a good one. I was not impressed with Nuts. While the sexual food innuendos and sweet romance kept me entertained, the flat plot line and dull characters just bored me to death. If your looking for a simple romance with a few laughs, Nuts may do the trick, otherwise I would suggest just leaving this one on the pantry shelf.