"Size-eighteen women were supposed to be timid.  Size-eighteen women were supposed to be shy.  Size-eighteen women were supposed to be grateful for any male attention, and to feel especially honored if a good-looking man paid attention to them. Fuck all that noise."- Natalie, Cream of the Crop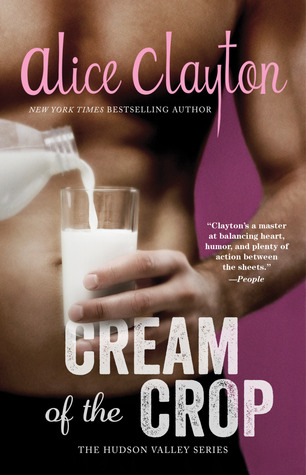 Title: Cream of the Crop
Author: Alice Clayton
Series: Hudson Valley
Publication Date: July 12, 2016
Publisher: Gallery Books
Links: Goodreads | Amazon | Barnes & Noble | Book Depository
*I received an ARC from Netgalley in exchange for an honest review.*
Rating: ★★★★
Synopsis via Goodreads: New York Times and USA TODAY bestselling author Alice Clayton brings her trademark blend of funny and sexy to this second contemporary romance in the brand-new Hudson Valley series!

Manhattan's It Girl, Natalie Grayson, has it all: she's a hot exec at a leading advertising firm, known industry-wide for her challenging and edgy campaigns. She's got a large circle of friends, a family that loves her dearly, and her dance card is always full with handsome eligible bachelors. What else could a modern gal-about-town wish for? The answer, of course, is…cheese.

Natalie's favorite part of each week is spending Saturday morning at the Union Square Farmer's Market, where she indulges her love of all things triple cream. Her favorite booth also indulges her love of all things handsome. Oscar Mendoza, owner of the Bailey Falls Creamery and purveyor of the finest artisanal cheeses the Hudson Valley has to offer, is tall, dark, mysterious, and a bit oblivious. Or so she thinks. But that doesn't stop Natalie from fantasizing about the size of his, ahem, milk can.

Romance is churning, passion is burning, and something incredible is rising to the top. Could it be…love?
Natalie Grayson is a plus size bombshell who always goes after what she wants. And what she wants is Oscar Mendoza, a local dairy farmer in Hudson Valley who makes ones of the best cheeses that have ever touched her taste buds. But Oscar is not exactly picking up what she's putting down. Opportunity strikes when a new project lands on her desk and Natalie finds herself in the small town of Hudson Valley. Switching out her high heels for a pair of cowboy boots, Natalie hopes to finally have her moment with Oscar. But when things start to heat up between the two, will Natalie trade in her high heels for good, or will memories from the past send her packing her bags with a one-way ticket back to the city?
I read the first installment in the Hudson Valley series, Nuts, a few weeks ago and while I was not too impressed by it, I was still interested in checking out the second book in this series, hoping that it would be much better than the first. AND IT WAS! Thank god for that because reading two mediocre books in a row would not make for a happy bookworm! 
The writing was a lot better in this book. It was more smoother than the previous installment and I was immediately sucked in by Natalie's narration. I RELATED TO HER ON A SPIRITUAL LEVEL! She is so blunt and straight-forward. Her dialogue made this book such a entertaining read that I could not put down. I felt like there was also a lot more going on with the plot since Natalie's past comes into play. Although she is a such a confident woman now, she wasn't always that way and I really loved seeing her talk about her past and how she overcame her issues and despite those dark times, they made her the FIERCE BADASS she is today. 
The romance is VERY HOT AND HEAVY in this book. The chemistry, the sexual tension are very strong between these two. This is insta-lust at its finest, although I wasn't complaining 😉.
The back and forth banter between these two had me dying with laughter since Natalie is so forward. She definitely brought out a another side of Oscar and it was fun to see him not be so serious all the time.
As you can already guess, I really LOVED Natalie and she basically made this book for me. Like I said before, I love her fierce attitude, but I also love that she still had her insecurities. She has to make a tough decision in this book and she didn't want to have to sacrifice who she was just for the sake of love and I admire that. Many heroines in romance novels are so quick to put another's needs before their own, but it was refreshing to see a female MC put her own needs first. Oscar was such a brooding farmer, but as attractive as he was, I felt like he lack depth. He was basically  just eye-candy for the readers. I wanted more from him, more to his personality, something to liven him up!
The only issue I had was with the ending. I felt the ending was a bit rushed and overly dramatic. The ending is where our main conflict shows up, but it only took a chapter or two for things to be resolved and happy again. I kind I wished it was dragged out a little more.
Overall, Cream of the Crop was a more satisfying sequel that did not disappoint. Fun-loving, super cheesy, and sexy as hell, this book will keep you entertained and Natalie will steal your heart, whether you want her to or not. I would definitely recommend this one for those in the mood for a laugh-out-loud romantic comedy and I'm excited to read the next installment in this series!