"We're nothing. We're smoke—insubstantial and meaningless. We aren't even a tragedy. We're less than nothing."- Ella, Broken Prince
Title: Broken Prince
Author: Erin Watt
Series: The Royals
Publication Date: July 25, 2016
Publisher: Everafter Romance
Links: Goodreads | Amazon | Barnes & Noble | Book Depository
Rating: ★★★★½
Synopsis via Goodreads: These Royals will ruin you…

From wharf fights and school brawls to crumbling lives inside glittery mansions, one guy tries to save himself.

Reed Royal has it all—looks, status, money. The girls at his elite prep school line up to date him, the guys want to be him, but Reed never gave a damn about anyone but his family until Ella Harper walked into his life.

What started off as burning resentment and the need to make his father's new ward suffer turned into something else entirely—keep Ella close. Keep Ella safe. But when one foolish mistake drives her out of Reed's arms and brings chaos to the Royal household, Reed's entire world begins to fall apart around him.

Ella doesn't want him anymore. She says they'll only destroy each other.

She might be right.

Secrets. Betrayal. Enemies. It's like nothing Reed has ever dealt with before, and if he's going to win back his princess, he'll need to prove himself Royally worthy.
After Paper Princess ended with a deadly cliffhanger, I was in dire need of the next book in this trilogy! I spent the whole week preparing myself for the release of Broken Prince. I pre-order the book, which is something I never do, and I waited until the clock struck 12 so I could start this book and get some DAMN ANSWERS! I did not care that I had to get up for work in 5 hours. I did not care that I had a raging migraine that could've been relieved if I'd just went to sleep. I just wanted answers. NO, FUCK THAT—I NEEDED ANSWERS! But let's face it, no amount of preparation could prepare me for what was about to go down in Broken Prince. Not even close.
Broken Prince picks up right where Paper Princess left off, with Ella Harper fleeing the Royal mansion without a trace. With Ella gone, the relationships among the Royal siblings becomes strained as everyone blames Reed Royal for Ella running away. But Reed is determined to make things right by finding Ella and bringing her back home. But finding Ella won't fix any of their problems. Not by a long shot.
Broken Prince is told from alternating POVs of Ella Harper and Reed Royal and dammit, I was a little pissed because I knew this book would try to convert me into a Reed Royal fan. We get to see inside the mind of this brooding Royal and I'll admit, he's not as bad as I thought he was. There is a heart there and he does in fact genuinely care for Ella, but I'm not fully on board the Reed ship JUST yet. Maybe that'll change by the last book, but for now, Easton Royal will remain as my FAVORITE!
ELLA HARPER IS A BADASS WHO SHOULD NOT BE TRIED! I loved Ella in Paper Princess and my love for her has grown even more after reading Broken Prince. I could go on and on about how AMAZING she is. SHE IS FIERCE, FEARLESS, A FIGHTER AT HEART! She stood up to bullies and never let others talked down to her. What made me love her more was the fact that despite the shit she was going through, she still had goals to go to college and make a better life for herself. I admire her determination so much! BUT CAN WE ALSO TAKE A MINUTE TO TALK ABOUT HOW MY GIRL ELLA WAS SNATCHING WEAVES LEFT AND RIGHT?!
The throw down scene between Ella and Jordan was one of the BEST I've read in a while and secondary characters were finally getting put in their place.
The writing was once again pure genius as the PLOT THICKENS and we learn more about the Royal brothers. The secrets, the lies, the blackmail…THE SUSPENSE WAS KILLER! I am still in shock over some of the secrets that were revealed because they were just that twisted. But the big show stopper was the ending. Paper Princess ended with a deadly cliffhanger, but Erin Watt outdid themselves with Broken Prince as this book ended with a DOUBLE PLOT TWISTED CLIFFHANGER!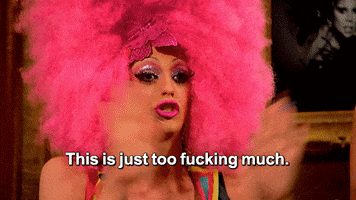 I can't even predict what will happen next! I'm still processing the ending because I'm sure no one could've seen that one coming.
So this is the part where I usually urge everyone to go pick up this book, but in all honesty, if you haven't started Paper Princess, I would suggest you wait until the release of Twisted Palace to start this trilogy. The cliffhangers are DEADLY AS FUCK and I'm sure that everyone who has already read the first two books in this series can attest to that statement. Let us hope that our eReaders make it out in once piece on October 17th because I'm sure Twisted Palace is going to claim some lives when it releases!