"I'm a rumor. A whisper. The thought that wakes the bastards of this world sweating in the nevernight."- Mia, Nevernight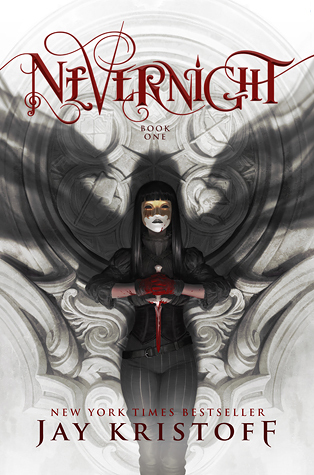 Title: Nevernight
Author: Jay Kristoff
Series: The Nevernight Chronicle
Publication Date: August 9, 2016
Publisher: Thomas Dunne Books
Links: Goodreads | Amazon | Barnes & Noble | Book Depository
*I received an ARC from Netgalley in exchange for an honest review.*
Rating: ★★★★
Synopsis via Goodreads: The first in a new fantasy series from the New York Times bestselling author.

In a land where three suns almost never set, a fledgling killer joins a school of assassins, seeking vengeance against the powers who destroyed her family.

Daughter of an executed traitor, Mia Corvere is barely able to escape her father's failed rebellion with her life. Alone and friendless, she hides in a city built from the bones of a dead god, hunted by the Senate and her father's former comrades. But her gift for speaking with the shadows leads her to the door of a retired killer, and a future she never imagined.

Now, Mia is apprenticed to the deadliest flock of assassins in the entire Republic—the Red Church. If she bests her fellow students in contests of steel, poison and the subtle arts, she'll be inducted among the Blades of the Lady of Blessed Murder, and one step closer to the vengeance she desires. But a killer is loose within the Church's halls, the bloody secrets of Mia's past return to haunt her, and a plot to bring down the entire congregation is unfolding in the shadows she so loves.

Will she even survive to initiation, let alone have her revenge?
Nevernight is a dark high fantasy novel filled with bloodlust and revenge as a young assassin hopes to take down those who have stolen everything from her. Mia Corvere has spent the last few years training as she prepares to embark on a journey to find the Red Church, a school that turns killers into deadly assassins. Mia will have to fight her way to the top if she wants be successful at the Red Church and that means keeping your friends close and your enemies closer. But when your competition are all thieves and killer, who can you truly trust?
Books that revolve around killer assassins are MY WEAKNESS so after reading the synopsis for Nevernight, I immediately added this book to my TBR. I was also very curious to see what all the hype was about because 5-star reviews were popping up left and right. Luckily for me, Nevernight lived up to its hype! With that being said, I STILL WOULD NOT RECOMMEND THIS BOOK TO EVERYONE. The writing in Nevernight is quite dense. With its slow pacing and descriptive metaphors, some might find reading this book to be a bit tedious. It does take a while to get into the story, but once things started to pick up, I couldn't out this book down. I loved the dialogue between characters in this book. With their sarcastic remarks and constant threats to gut each other, I was completely entertained and couldn't stop laughing which helped to lighten the mood of this dark book. THE ACTION, THE BLOODSHED, THE SUSPENSE, IT HAD EVERYTHING I WANT IN A KILLER ASSASSIN BOOK! This book also includes footnotes, but I pretty much ignored those for the most part. They were fun to read, but I didn't feel like they were necessarily required to read in order to understand this book.
These characters are AMAZING! I love Mia Corvere as she is fierce, yet she does have her moments of vulnerability. She is different than the other assassins at the Red Church as she has the ability to control her shadow, but she doesn't actually know why she was gifted with this ability. Throughout this book, she learns more and more about who she is, what she's capable of and what it means exactly means to be a Darkin. I was so entertained by her sidekick, Mister Kindly. Mister Kindly is a sassy-mouthed "cat that is not a cat" that looks out for Mia's well-being and keeps her focused on her true goal. There is also a bit of a side romance in this book between Mia and another assassin named Tric. DAMN, THE ROMANCE WAS HOT. I fully admit that one of the other reasons why I wanted to read Nevernight was because I heard there were smutty scenes. The romance lover in me lived for the smutty scenes, but I also liked the fact that the romance did not overtake the plot.
THE PLOT TWISTS AT THE END TOOK ME BY SURPRISED! I thought I had this shit figured out, but the betrayal in this book is SO FREAKIN' GOOD! I didn't even realize what was going down until one of my favorite character was killed. I understand why this death had to occur, but I'm still mad about it and will probably stay mad until I get my hand on the second book.
Nevernight was a dark and twisted fantasy that gave me all the heart palpitations. I can't wait to see what goes down in the upcoming sequel. I know Mia is about to raise some hell and the body count in the next book will probably double. If you love killer assassins as much as I do, I would totally recommend giving this trilogy a chance. I promise, once you make it past the first 100 pages, you will not be able to put this book down!