"There's something about Lily that makes all the terrible parts of me irrelevant. That makes a bad day momentary and a good one infinite. It's love like this that's worth living for."- Loren, Addicted After All
Title: Addicted After All
Author: Krista & Becca Ritchie
Series: Addicted
Publication Date: October 31, 2014
Publisher: Self-published
Links: Goodreads | Amazon | Barnes & Noble | Book Depository
Rating: ★★★★★
Synopsis via Goodreads: Two addicts. One epic love story.

Prepare for the worst.

That's what Lily and Lo try to do when Jonathan Hale schedules an "important" meeting. The problem: after being swept into the public eye and battling their addictions, they're not sure what the worst is anymore.

In a sea of many changes—including Ryke & Daisy living with them—Lily realizes that the best part of her fluctuating hormones might just be the worst.

Her sex drive is out of control.

Loren knows that she's insatiable, but he's not giving up on her. She's too much a part of him. And as he carries more and more responsibility, some of the people that he loves doubt his resolve.

In the conclusion to their love story, Lily & Lo stand side-by-side to fight, one last time, for their happily ever after.
I'm overwhelmed with emotions as I write this review. After spending weeks wrapped up in this love story about two struggling addicts who do their damndest to overcome their addictions, I can say that I couldn't have asked for a more PERFECT ENDING. Lily and Loren's story has touched my heart and I have so much love for these two characters and who they've become. DAMN THIS SERIES WILL BE THE DEATH OF ME!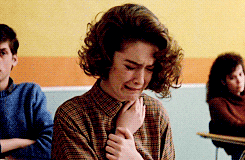 Addicted for All is the conclusion to Lily Calloway and Loren Hale's epic love story. These two have come a long way and have overcome every obstacle that life has thrown at them as a team and now they will face the greatest obstacle of them all: becoming a family. Many have had their doubts, but Loren and Lily know that they are ready to take this next step in life because there are no sad endings for these two, only a happy one.
I will never stop saying this, but THE CHARACTER DEVELOPMENT THROUGHOUT THIS SERIES IS ONE OF THE BEST THINGS EVER! Lily and Loren have grown so much from the first time I met them. They were once two young teens who only cared about feeding their addictions, but now they are adults who have learned how to control their compulsions and are about to start their own family. Lily Calloway is so freakin' precious and I love her to bits. She has probably had the most growth throughout this series as people have shamed her time and time again for her addiction. Although she may have stumbled a few times, she never gave up and she found her voice. She is still shy, but she stands up for herself when it matters most. Loren Hale has grown too and is ready to take on more leadership roles. His relationship with his father may never be perfect, but they have a better understanding of who the other is and they genuinely care for each other. Loren's relationship with his brother, Ryke, has changed immensely and there bond is so much stronger now that nothing could tear these two apart. Lily and Loren are a power couple and despite what the public will say about there relationship, their love for one another is undeniable and I know they will make amazing parents. I AM SO PROUD OF THESE TWO AND HOW FAR THEY'VE COME!
We also have our secondary characters who were doing some pretty amazing things. Connor and Rose did an AMAZING THING in this book and it was so precious and it brought out a different side of Rose that both surprised me and brought me to tears. These two are my favorite couple and I've always loved how supportive these two are of Lily and Loren and never shamed them for being who they are. Ryke and Daisy are also adorable as ever in this book. I'm excited to continue the Calloway Sisters series to see how these two stories end. I hope they're both as epic as LiLo's!
Addicted After All was truly the perfect conclusion to this epic love story. It may have took them a while to get there, but Lily and Loren finally got the happy ending they worked to hard to achieve. They are precious children that deserve to be love despite their flaws. Their addictions don't define them, they are extraordinary all on their own. THIS SERIES IS AMAZING AND I WILL FOREVER PUSH FOR EVERYONE TO READ IT! THIS IS WHAT GOOD NEW ADULT READS LIKE! I have three more books left in my Addicted/Calloway Sisters series binge-read and I will savor each book. I cried so hard when I finished this book, I can't even begin to imagine what will happen after I finish the last book.