"Six people, but a thousand ways this insane plan could go wrong."- Jesper, Six of Crows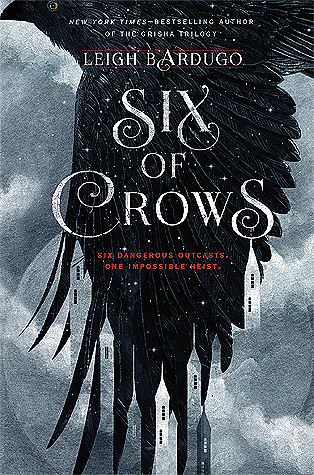 Title: Six of Crows
Author: Leigh Bardugo
Series: Six of Crows
Publication Date: September 29, 2015
Publisher: Henry Holt and Company
Links: Goodreads | Amazon | Barnes & Nobles | Book Depository
Rating: ★★★★★
Synopsis via Goodreads: Ketterdam: a bustling hub of international trade where anything can be had for the right price—and no one knows that better than criminal prodigy Kaz Brekker. Kaz is offered a chance at a deadly heist that could make him rich beyond his wildest dreams. But he can't pull it off alone…

A convict with a thirst for revenge.

A sharpshooter who can't walk away from a wager.

A runaway with a privileged past.

A spy known as the Wraith.

A Heartrender using her magic to survive the slums.

A thief with a gift for unlikely escapes.

Kaz's crew are the only ones who might stand between the world and destruction—if they don't kill each other first.
I originally bought Six of Crows on release day and despite the fact that this book is basically a work of art with its black-stained edge pages, I never got around to actually reading it. With the release of Crooked Kingdom just around the corner, I decided to finally pick of Six of Crows to see what all the hype was about and let me just say, I AM EXTREMELY HAPPY THAT THE HYPE WAS REAL BECAUSE THIS BOOK WAS EPIC! I am so emotionally invested in these characters, I'm actually sad that this is just a duology. Can we get four more books please, one for each character? 
Six of Crows tells the story of six characters who are recruited for one impossible heist. While reading Six of Crows, I got a few comments saying that "I had to read the The Grisha trilogy before reading Six of Crows" and personally, I don't think that this is required. Bardugo herself said that one does not have to read The Grisha trilogy in order to read and understand Six of Crows, although it may better your reading experience since you will already be familiar with the Grisha-world. I did not read The Grisha trilogy beforehand, nor do I have any intentions of ever reading it, and I had no problems when it came to understanding the Grisha-world so it's definitely up to the reader's digression whether or not they want to read the trilogy before or not. 
First, LET'S TALK PLOT, THE WRITING AND WORLD-BUILDING! This book is set around six characters on a dangerous heist and we all know how much I love assassin books, so while the characters are not technically assassins, thieves and con-artists are the next best thing for me. The writing was beautiful, suspenseful, action-packed and at times, even dark. Despite being told from five POVs, I didn't find it to be overwhelming and there was no over-powering of POVs. I liked the fact that Bardugo weaves in each character's back story within the plot and we get to see flashbacks of their past and learn more about their struggles and why they are the way they are. I loved all the twist and turns throughout this book and the fact that I could never predict what was going to happen next. The ending left me on the floor because TOO MANY ASSHOLES WERE TRYING TO HURT MY PRECIOUS CHILDREN. I also loved the Grisha-world and learning about the Grisha people and all their different powers. I understand why they are feared, but at the same time I just want to protect them. 
THESE CHARACTERS ARE EVERYTHING! The ringleader and the best thief of them all, Kaz Brekkar is not one to be trifled with. He's quick on his feet and rarely ever loses his cool. He may have lost everything, but he will not rest until the day the people who did him wrong get what they deserve. Right by his side we have Inej Ghafa, the Wraith. She is Kaz's eyes and ears of Ketterdam and knows pretty much everything about everything. She is far from home, but dreams of the day where she can reunite with her family and leave this life behind her. Then we have Nina Zenik, my precious little Grisha warrior! I LOVE HER CHARACTER SO MUCH. She is is so much more than just a pretty face and is quite the force to be reckoned with. Matthias, the Grisha-hunter (well reformed Grisha-hunter) only agreed to help in order to gain his freedom. But he soon finds himself becoming closer with this crew and becomes part of the team. Jesper, the sharpshooter and PRECIOUS CHILD, I found him to be the most entertaining character with this witty remarks and he is the glue that keeps this group together. Last but not least is Wylan, the wild card. I was not expecting some of the things that Wylan did in this book. He has some pretty interesting tricks up his sleeve and he is capable of handling his own, for the most part. I LOVE ALL THESE CHARACTERS and the chemistry they all had. Even though things were rough in the beginning, they managed to become a great team and had each other backs. Also, THE FREAKIN' SHIPS!
NINA AND MATTHIAS ARE MY SHIP AND I WILL DEFEND IT AT ALL COST! Their back story literally gives me all the feels, I simply CAN NOT! Also, Kaz and Inej. I will bet my money that Kaz Brekkar is actually a romantic deep down and I can't wait to see his relationship with Inej grow in the sequel. The last ship is still in the harbor, but I am hoping that the Jesper and Wylan ship sets sail soon. The banter between these two give me such joy, I NEED MORE! This is probably the most ship-able book I've ever read and I live for it.
I think I've fangirled enough at this point, but in a nutshell, Six of Crows was everything I wanted and more in a YA Fantasy novel. I'm so anxious to see what is going to happen next and I'm hoping no one dies. PLEASE LET THE DREGS LIVE! THEY DESERVE IT!