"Because love is the ultimate goal. It's not the one I had strived for, but I was lucky enough, so damn lucky, to achieve it."- Sabrina, The Goal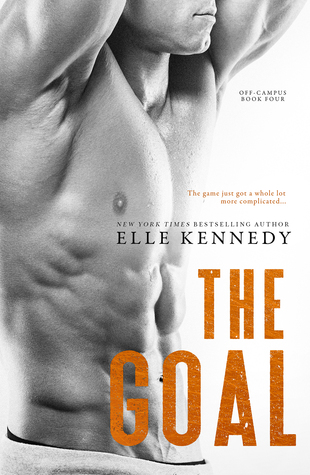 Title: The Goal
Author: Elle Kennedy
Series: Off-Campus
Publication Date: September 26, 2016
Publisher: CreateSpace Independent Publishing
Links: Goodreads | Amazon | Barnes & Nobles 
Rating: ★★★★
Synopsis via Goodreads: She's good at achieving her goals…

College senior Sabrina James has her whole future planned out: graduate from college, kick butt in law school, and land a high-paying job at a cutthroat firm. Her path to escaping her shameful past certainly doesn't include a gorgeous hockey player who believes in love at first sight. One night of sizzling heat and surprising tenderness is all she's willing to give John Tucker, but sometimes, one night is all it takes for your entire life to change.

But the game just got a whole lot more complicated

Tucker believes being a team player is as important as being the star. On the ice, he's fine staying out of the spotlight, but when it comes to becoming a daddy at the age of twenty-two, he refuses to be a bench warmer. It doesn't hurt that the soon-to-be mother of his child is beautiful, whip-smart, and keeps him on his toes. The problem is, Sabrina's heart is locked up tight, and the fiery brunette is too stubborn to accept his help. If he wants a life with the woman of his dreams, he'll have to convince her that some goals can only be made with an assist.
The Goal is the fourth and final installment in Elle Kennedy's Off-Campus series and it was also one of my most anticipated releases for this month. After The Score ended with a crazy cliffhanger, I was dying to see how Tucker's story would play out. Needless to say, I enjoyed Tucker and Sabrina's story very much, although The Score still holds the spot for my favorite book in this series. 
The Goal follows the story of Sabrina James and John Tucker. Sabrina has only ever had her eyes set on one thing, law school. She's determined to make a better life for herself and that means absolutely no distractions. So when one night of fun turns into something more, Sabrina finds herself contemplating whether or not the sweet talking hockey player is worth taking a chance on. John Tucker knows that there is something between him and Sabrina and he's not willing to give up on it. Despite her hesitations, Sabrina decides to give Tucker a chance and the heat is turned up between the two. But when an unexpected pregnancy threatens her dreams of law school, Sabrina will have to make a decision that will not only change her life, but also the life of the one person she could possibly ever love.
I went into The Goal expecting it to be similar to the previous installments with crazy shenanigans and hilarious banter, but The Goal had more of serious tone. Sabrina and Tucker are both seniors about to graduate so there is a lot of talk about expectations, career options and taking the next step. Even though I missed the shenanigans, I did like seeing our characters grow up and take on more adult responsibilities as they tried to figure out their future. We've been through so much with these characters and now they are ready to go off and start their careers and be adults and I was so proud of them and all their accomplishments.
I ABSOLUTELY ADORED TUCKER! WHAT A SWEET TALKER! WHERE CAN I GET ME ONE OF HIM?! Tucker was such a sweetheart and a wildcard for me because he came out of nowhere with those sexy one liners. He said that he would ruin Sabrina for future guys, I'm pretty sure he ruined all of us romance readers for future guys. I swear it's always the quiet ones and Kennedy definitely saved the best for last. Even though Sabrina hesitated to take a chance on him, Tucker was willing to wait until she was ready and his patience paid off in the end. Although she is not the most easy to love person, he loved her for who she was and never attempted to change her and I appreciated that about him. I did have a love/hate relationship Sabrina and found her to be a bit frustrating at times. Even though she makes it hard to love her, I understand why she is the way she is. Coming from a broken home and having never felt truly loved by someone, Sabrina had a difficult time accepting the fact that Tucker could possibly be in love with her. She didn't want to get hurt, so she put up walls to keep her own heart safe and I get that and I can't blame her for it. I did end up loving her in the end and I think she and Tucker balance each other out quite nicely. 
While things were hot and heavy between the two, the romance felt a little off to me. These two had great chemistry, there's no denying that, but I felt like it was all too physical and I wished that there was a stronger emotional connection between the two. I wasn't swimming in all the feels like I was with the previous books and I think that this may be the main reason why I didn't enjoy it as much as I did with the previous installments.
And with that, the Off-Campus series has come to and end.
I am seriously going to miss these characters so much and I have so much love for them, I can't wait to re-read this series over and over again. If you haven't already started reading this series, YOU ARE MISSING OUT! SHENANIGANS, FLIRTY BANTER, AND HOT-DAMN SEXY TIMES, WHAT MORE COULD YOU ASK FOR?! Elle Kennedy has blessed us romance lovers with one hell of an entertaining series and even though these character's stories have come to an end, Kennedy plans to write a spin-off series and I hope it is just as fun as the Off-Campus series was. I'm so ready for Fitzy's story, I NEED IT NOW!