Hey Bloggers!
Welcome back to:
Rants & Rambles is a weekly feature where I share my own personal thoughts and opinions about both bookish and blogging related topics. As stated, these are MY OWN opinions and while you can choose to disagree with it, I hope that you at least respect it.
---
This week on Rants & Rambles I want to discuss:
Fair warning, this discussion post may be a little rantier than most because I'm a little irritated by the book hating and shaming that has gone down the past few weeks on social media and Goodreads. I don't usually let things like this get under my skin, but for some strange particular reason, when readers were throwing hate at a debut novel, I had a hard time brushing their remarks off. The book I'm referring to is All the Ugly and Wonderful Things by Bryn Greenwood. Now this discussion isn't about defending this book (I'll save that for my review), this discussion is about people judging and hating a book and slamming an author for writing a book that deals with heavy topics WITHOUT ACTUALLY READING IT FIRST!
Hear me out. I'm all for hating and slamming on a book you hate, I've done it many of my own reviews. But here's the thing, I actually read those books, highlighted and made notes about what bothered me and why I hated something. I have proof.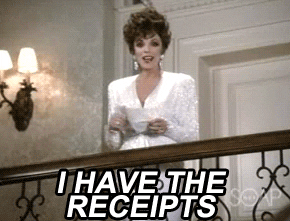 What I'm trying to understand is HOW CAN ONE HATE AND SLAM A BOOK THEY NEVER ACTUALLY READ?! Like what's your basis for hating a book you never read? Where are you getting your reasoning, your facts to support your hate because it's not from the book since you didn't actually read it. What confuses me more is when I read discussion posts where a person slams a book without actually reading it. Like, why waste a post tearing a book to shred when you didn't actually read it and already expressed that you won't be reading it in the first place?
Let me tell y'all a story about how I came to hate Fifty Shades of Grey. So everyone was talking about this series and one of my co-workers actually enjoyed the series, while the other wanted to set fire to all three books. I decided that I wanted to see what all the controversy was about when it came to this series, so I binge-read all three books. During this time, I didn't let my co-workers influence my feelings, I wasn't swayed by social media, I just read and drew my own conclusions based on things I highlighted and noted in my book. I ended up hating the series and wanted to a damn refund for my eBooks. But here's the thing, I had evidence to support my argument on why FSOG is a bad book. No one can try to change my mind or tell me I'm wrong because I'll just direct them to all the BS I highlighted. 
I got sidetracked for a minute, but my point of this whole discussion is that making remarks about a cover is okay, side-eyeing the synopsis of a book is okay, but dragging a book that you actually didn't read it NOT OKAY. I'm okay with someone saying a book isn't their cup of tea or it just doesn't appeal to them, but tearing a book to shreds without any actual evidence only makes for a weak argument.  
---
I'm sorry for my pettiness in this discussion, but I'm tired of everyone judging a labeling books a 'problematic' just because of the synopsis. Before we jump on the bandwagon, let's get the facts straight, read the book first, let people draw their own conclusions and if the book really is problematic, then have at it. Drag that book to hell and back if your little heart desires. I sure as hell won't stop you.
That is all for this week's Rants & Rambles. I hope you enjoyed my random thoughts!
Have you ever judged a book without reading it?
Let me know in the comments!