"Knowing her…changed everything. And loving her…brought me to life."- Nicholas, Royally Screwed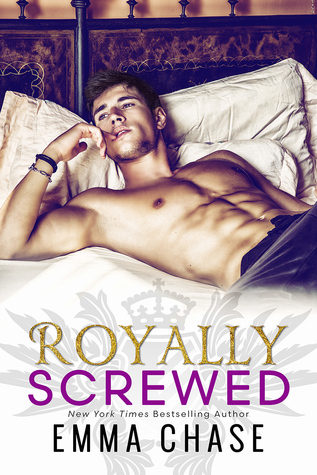 Title: Royally Screwed
Author: Emma Chase
Series: Royally
Publication Date: October 18, 2016
Publisher: Self-published
Links: Goodreads | Amazon | Barnes & Nobles | Book Depository 
Rating: ★★★★
Synopsis via Goodreads: Nicholas Arthur Frederick Edward Pembrook, Crowned Prince of Wessco, aka His Royal Hotness, is wickedly charming, devastatingly handsome, and unabashedly arrogant; hard not to be when people are constantly bowing down to you.

Then, one snowy night in Manhattan, the prince meets a dark haired beauty who doesn't bow down. Instead, she throws a pie in his face.

Nicholas wants to find out if she tastes as good as her pie, and this heir apparent is used to getting what he wants.

Dating a prince isn't what waitress Olivia Hammond ever imagined it would be.

There's a disapproving queen, a wildly inappropriate spare heir, relentless paparazzi, and brutal public scrutiny. While they've traded in horse drawn carriages for Rolls Royces, and haven't chopped anyone's head off lately, the royals are far from accepting of this commoner.

But to Olivia, Nicholas is worth it.

Nicholas grew up with the whole world watching, and now Marriage Watch is in full force. In the end, Nicholas has to decide who he is and, more importantly, who he wants to be: a King… or the man who gets to love Olivia forever.
I've been in a bit of a reading funk for the last two weeks, reading mediocre books that were barely keeping me entertained and I was in DIRE NEED of a good book. A book that would make me laugh. A book that would give me all the feels and make me squeal. A book that would keep me from falling into a yet another wretched reading slump! I've heard nothing but great things about Emma Chase's books, so after reading the synopsis of her newest release, I knew this was just the book I needed to save me from the slump. 
Nicholas Pembrook, the Crowned Prince of Wessco, is dashing, charming, cocky as hell and used to getting whatever he wants, and what he wants right now is Olivia Hammond. But Olivia is not so quick to take orders from His Royal Hotness and if he wants a chance with Olivia, Nicholas is going to have to work for it. His persistence eventually pays off and things become heated between the two. When royal duties force him to return home early, Nicholas suggest that Olivia accompany him as he doesn't want to let go of her just yet. But when rules and regulations threaten to split these two apart, will this fairy tale come to an end, or will these two get the happily ever after they've been searching for?
THIS BOOK WAS SO DARN CUTE AND I SIMPLY COULD NOT GET ENOUGH OF THIS ROYAL ROMANCE! I am not usually big on cheesy romances. They're fairly predictable and leave little room for originality, BUT THIS BOOK WAS THE GOOD KIND OF CHEESE! I was laughing, squealing and I'm pretty sure at one point I was screaming because of how much I was enjoying this book.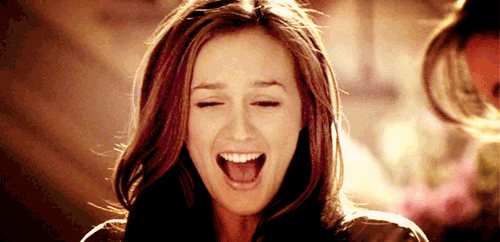 Emma Chase's writing is ADDICTING and even though I very much enjoyed the romance and seeing out two main characters fall in love, what I loved most about this book were the secondary characters. Henry, Nicholas' younger brother is notorious for getting into trouble, but Nicholas still loves him and is there for him whenever he's in trouble. Henry is also HILARIOUS AF and I'm looking forward to getting to know more about him in the sequel. Crossing my figures for shenanigans in the sequel! And then there's Franny. While Franny may come off as being abrasive, she has a good heart and extended a welcoming hand to Olivia. I kind of wish we saw more of this friendship, but hopefully we get more of Franny's sass in the sequels.
I LOVE OLIVIA HAMMOND. From the moment I read her POV, I knew I was going to like her. Olivia is a hardworking, selfless and caring young woman who puts everyone else's needs before her own. She didn't care about Nicholas' worth, she loved him for who he was as a person. Then we have Nicholas, His Royal Hotness, who ended up surprising me as I had initially had him pegged for another "cocky asshole who eventually grew a heart", but he actually had a heart from the start. Don't get me wrong, he did piss me off towards the end, but he was not as arrogant as I thought he would be and was caring and considerate, all qualities fit for a future King. 
Royally Screwed was my first Emma Chase book, but it most certainly won't be my last! I can't wait to check out her other series and also meet this notorious Drew character I see some of my favorite bloggers fangirling about. If you're in need of a Prince to sweep you off your feet, I totally recommend you check out this book. His Royal Hotness will not disappoint!